What is a Fractional CMO? & How to Choose The Right One
Imagine hiring a CMO to take your business to the next level without breaking the bank.
Sounds too good to be true?
Most companies, particularly tech businesses, are turning towards working with Fractional CMO—a unique solution where one can secure executive-level and marketing leadership skills in a fractional manner.
By working with a fractional CMO, you gain access to industry leaders who have worked with a variety of businesses and can offer valuable insights and strategies.
Furthermore, if you're looking to take your marketing to the next level, consider working with a trusted and experienced fractional CMO provider. With our tailored, on-demand CMO solutions, you can access top-level marketing talent and expertise without the cost of a full-time executive.
In fact, according to Forbes, "Fractional CMOs offer a unique solution to a common problem: the need for experienced executive top-level marketing talent at a reasonable cost."
In this article, we'll explore what a good fractional CMO is, what they do, and, most importantly, how to choose the right one for your business.
What is a Fractional CMO?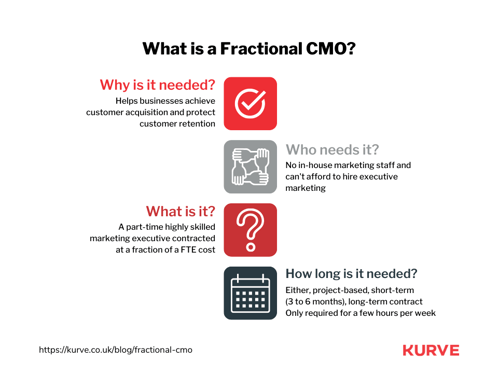 A fractional CMO, also known as a part-time CMO, is an outsourced and experienced marketing leader who works with businesses on a fractional or a part-time basis to oversee their marketing strategy and initiatives. They often have extensive industry knowledge, which helps them significantly impact the marketing of any company they tend to work with.
While fractional chief marketing officers often play a holistic role and might be involved in multiple marketing verticals, their main focus is to lead the development of marketing strategies and campaigns that attract and retain new customers.
How are they different from a full-time CMO?
The main difference between a Fractional CMO and a full-time CMO is the time they dedicate to a company.
A Fractional CMO works part-time and is typically hired on a retainer basis, providing expertise and support as needed. They work with multiple clients and can offer their services at a lower cost, making it much cheaper to work with them in the long run.
On the other hand, a full-time CMO is a senior executive employed by a company and works full-time to oversee all marketing initiatives. They are typically more deeply integrated into a company's management team and have greater responsibility for the organization's overall marketing strategy, budget, and staffing.
Why should you outsource your marketing?
Sure, outsourcing your marketing can help you save time and focus on the more important parts of your business. But that's not the main reason why you should do it.
An external resource like a fractional CMO can give your business a fresh perspective and unbiased viewpoint. This will help you stand out in the market. Fractional CMOs have experience working with various industries, markets, and demographics and can apply their knowledge to your business to create a tailored marketing plan.
At Kurve, we have worked with numerous clients who have seen significant improvements in their marketing efforts after outsourcing high-level marketing decisions to a fractional CMO. For example, MobiData had zero organic rankings when they first started working with us. Within just 5-6 months, we were able to achieve the following: 28% of their keywords are in the top 3 pages of UK search results for Google, and two of them are now on the first page of UK search results for Google, ranked 2nd and 7th.
This case study demonstrates the potential benefits of outsourcing high-level marketing to a fractional CMO and how it can help your business achieve measurable results in a relatively short amount of time.
Do You Need a Fractional CMO on your marketing team?
Now that we know what these experienced marketing leaders do, how do you know if you need one of them on your own marketing leadership team?
Typically, small or mid-sized businesses without a full-time marketing department are the perfect fit to ensure that they hire a fractional CMO who is an integrated management team member.
But, if you're not sure based on the size of your company, try asking yourself these questions:
Are you satisfied with your current marketing team's overall performance and day-to-day operations?

Do you have a clear marketing strategy and execute it effectively?

Are there areas of your marketing strategy that you must address, such as content marketing, social media, or email marketing?

Are you expanding your business or launching new products and need help with marketing strategy to support your growth goals?

Do you need more resources, such as significant time, budget, or expertise, to devote to your marketing efforts?

Are you seeking an experienced marketing professional who can provide new ideas and insights to enhance your current marketing strategy?
These questions should serve as an excellent guiding factor to making a judgment.
So, what does a Fractional CMO do exactly?
A fractional CMO does many of the same things as a full-time CMO but on a fractional, part-time, or project basis.
They work with businesses to develop and implement go-to-market strategies, oversee marketing campaigns, do influencer marketing, and provide guidance on branding and messaging.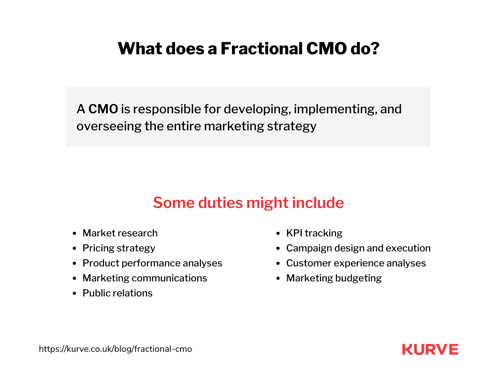 Let's explore the core duties that are a part of any fractional CMO responsibilities.
Execute marketing initiatives: A fractional CMO can be the driving force behind your marketing strategy and make a significant impact on various marketing initiatives, too, such as crafting campaigns that stick in customers' minds, generating brand recognition, and increasing lead generation success.

Optimize your marketing spending: Working with a fractional CMO allows you to maximize your marketing budget by ensuring it is poured into the ideal channels and campaigns for maximum return.

Conduct market research and analysis: A fractional CMO can also be your strategic ally and marketing leader, aiding you in enhancing your knowledge of the target audience through market research and customer data analysis to recognize key industry trends.

Oversee in-house marketing team: A fractional CMO can be a game-changer for your marketing team. They will provide the essential leadership, strategic project support, and guidance necessary to ensure that everyone is working in tandem toward achieving all of your desired goals quickly and effectively.

Collaborate with other departments: Having a fractional CMO on board can coordinate marketing efforts with other departments in your business, such as sales or product development, to guarantee that each marketing move is aligned with the company's overall strategic objectives.

Measure and report on marketing performance: A fractional CMO allows you to track, analyze, and report on the performance of your marketing tactics to gain valuable knowledge about what is succeeding and what needs improvement. With these insights, you can make timely decisions to drive results while staying ahead of the competition.

Stay up-to-date with industry trends: A fractional CMO is a perfect asset to your marketing department to keep your organization on the frontline with emerging trends and techniques in the marketing department, guaranteeing that you remain one stride ahead of rivals in a competitive marketplace.

Management of external resources: They may also be responsible for managing external marketing partners, such as agencies or freelancers and other c-suite executives in the company.
Benefits of Working with a Fractional CMO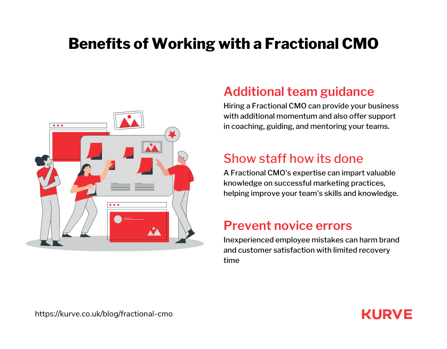 Better Results: They bring a wealth of experience, allowing them to hit the ground running and deliver results contributing to long-term success. For instance, we generated 58 SQLs in less than 6 months through a highly targeted and personalized cold outreach campaign for Veremark
Cheaper than Hiring Full-Time: By working with a good fractional CMO, you can access executive-level marketing talent at a fraction of the cost of hiring a full-time CMO.
In-House Team Coaching: Fractional CMOs work on marketing campaigns and help the in-house marketing department develop their skills and capabilities. They can provide valuable training and mentorship to help your team grow and improve.
Working remotely: The most significant advantage for most businesses post-COVID is that a fractional CMO work from any part of the world with any company.
How to Select the Right Fractional CMO
With so many options out there, how do you select the right fractional CMO for your business?
Let's explore some of the key factors for choosing and hiring a fractional CMO that will help propel your business and give you the growth your company deserves.
Analyze their Marketing Leadership Experience
The fractional CMO you choose should have a track record of executive experience in your industry and the specific marketing channels you need help with. A strong top marketing leader will typically have worked with multiple companies and helped them master their strategic planning process.
Ask for case studies or references from clients they have worked with to get an idea of their approach to marketing and the results they have achieved. Look for CMOs who have worked with a company similar to yours and have experience in your target markets.
To understand their professional background, you can also research their online presence, such as their LinkedIn profile.
Find Out if They Have Processes
A right fractional CMO should have a transparent process for developing marketing strategies and executing campaigns. Ask them about their process for developing a marketing plan, creating content, managing social media, and tracking results.
Further, ask about their process for communication and reporting. This will help ensure you are on the same page throughout the engagement.
We believe that a successful engagement with our clients is built on a structured process that encompasses every aspect of the marketing campaign. For instance, our five-step process begins with extensive research and defining the scope, value, and vision of the project. We then analyze the competitive landscape to understand your growth trajectory. Next, we define success metrics and KPIs to measure progress.
After planning and rollout, we evaluate the campaign's effectiveness and work with you to make necessary changes until your goals are met. Our process is designed to be transparent and collaborative, with open communication and reporting throughout the engagement.
Browse Their Recommendations
Go through their reviews and client testimonials to understand how it would be to work with them. Check out their website, LinkedIn, and other social media platforms for reviews and comments.
You can also ask the CMO for references to speak with their past clients directly. This will help you analyze their strengths, weaknesses, and how they handle challenges.
Consider Their Past Results
Ask the fractional CMO about their past results and how they achieved them. Look for CMOs who can provide specific examples of how they have helped businesses like yours create a go-to-market strategy and achieve their marketing goals.
Additionally, ask for case studies or examples of past campaigns to understand their approach and creativity. This will help you understand the value they can bring to your business's marketing function and whether they can help you achieve your business goals.
Decide Your Requirements
Discuss what you want to achieve by working with a fractional CMO. Determine your budget, timeline, and specific marketing strategies and goals. This will help you evaluate whether they can deliver on your requirements.
Additionally, consider whether you need a CMO who can work on a project or on an ongoing basis. This will help you find a CMO who can support you.
Fix the Scope of Work
Be clear about the scope of work you want the fractional CMO to take on. Decide whether you need short-term engagements or a longer-term contract.
Determine which marketing channels you need help with, what specific marketing initiatives you want the CMO to handle, the marketing key performance indicators to be used, and the level of involvement you want to have in the marketing process.
This will help you find a marketing expert who can deliver on your specific requirements and ensure the success of your business.
How much would it cost?
The cost of hiring a fractional CMO can vary widely depending on several factors, such as experience level, time commitment, and project scope.
Depending on the project complexity and expertise required, it can cost anywhere from $5,000 to $25,000 per month. We understand that every business has unique marketing needs, which is why we offer custom pricing for our fractional CMO services. If you're interested in exploring the option of a fractional CMO but aren't sure about the costs, reach out to our expert team at Kurve can provide you with a detailed breakdown and answer any questions you may have.
It's important to remember that while a fractional CMO may seem more expensive than hiring an in-house marketing executive, you will still save money on recruitment, benefits, and overhead costs. Furthermore, the chances of achieving great long-term success are high, and investing that amount of capital makes sense.
Remember that working with a marketing agency is also a better option if you're looking for a broader range of services, such as web design, social media management, and advertising. Marketing agencies typically offer a range of services at a lower cost. Still, they may be unable to provide the same expertise or flexibility as a fractional CMO.
The Verdict: Is hiring a fractional chief marketing officer worth it?
Hiring a fractional CMO can be an excellent way for your company to access top-notch marketing expertise and guidance for your marketing department without committing to a full-time marketing executive.
Following the steps outlined in this guide, you can evaluate potential candidates and find the right fit for your business. Remember that while a fractional CMO can bring many benefits, there are also potential drawbacks.
By weighing the pros and cons and considering your business's unique needs, you can make an informed decision and get the marketing support you need to grow and succeed.
Remember, if your company needs any help with your marketing efforts, Kurve can help. Our team of fractional CMOs has extensive experience working with businesses of all sizes and industries, and we're dedicated to helping you achieve your marketing goals. Contact us today to learn more about how we can help your business thrive.
We hope this article helped you understand what a good fractional CMO is, the benefits of working with one, and how to choose the right one for your business.