How Treecard scaled on Apple Search Ads and reduced costs by leveraging Apple App Store optimisation
Activation Dates: January - June 2023
Apple Search Ads Installs:
+25K
Apple Search Ads Impressions:
+1.7M
Average monthly CPA reduction:
-68%
Visibility score increase:
+419%

The Challenge
Our client Treecard, an impact-first business that allows users to take climate action and earn rewards through daily activities, asked Kurve to help improve visibility and increase conversions in the US market.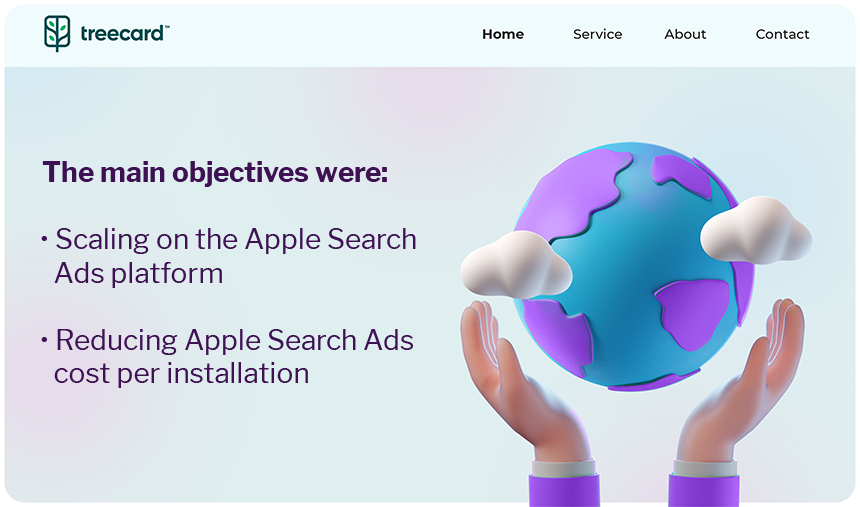 The Solution
We approached this challenge organically by working on App Store Optimisation in order to improve the performance of Apple Search Ads, without extra costs.
Combining App Store Optimisation & Apple Search Ads
Apple Search Ads is an acquisition tool that allows brands to increase impressions and reach untapped audiences. It can deliver great results in terms of return on investment, but to be really successful it needs to go together with an effective App Store Optimisation strategy.
The App Store drives conversions by making sure that when users search for an app with specific functions or characteristics they will be able to see relevant results. With Apple Search Ads, brands can bid on particular keywords to rank high in the App Store feed. Winning these bids depends on an algorithm that evaluates keywords relevance in the app's title, subtitle and description.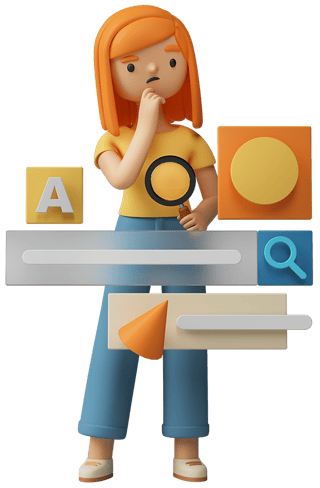 This means that optimising the App Store using keywords that are specific to a brand's unique selling points is the best way to improve traffic and increase installations on Apple Search Ads. This strategy will eventually lead to cheaper costs per install as App Store Optimisation impacts the chances of winning bids as well as organically improving visibility by ranking at the top of the App Store feed.

To update Treecard's metadata, we started by analysing competitors with the highest number of installations and revenue and researched their top performing keywords.

We tested these keywords with App Store Optimisation and Apple Search Ads and kept reviewing them every two weeks as we monitored their performance through keyword ranking analysis. The goal was to bring Treecard among the top 10 apps on the App Store feed.

We also used Apple Search Ads match types to connect keywords and user searches. Exact matches helped us show Treecard's ads to users looking for specific terms and test their performance. Broad matches allowed us to find related search terms and target the ones with the highest conversion rates while setting as negative the most expensive keywords that failed to bring results.

We observed that the negative keywords were terms related to the 'banking' category. This led us to the second step in our strategy: changing Treecard's App Store category from 'banking' to 'fitness'.

Both the keyword optimisation and the category change helped us further increase Treecard's relevance by getting more exposure through Apple Search Ads and through organic searches.
Apple Search Ads Installs:
Apple Search Ads Impressions:
Average monthly CPA reduction:
Visibility score increase: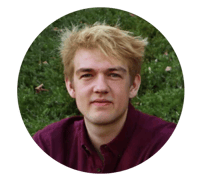 "Kurve's expertise in launching and managing Apple App Store paid and organic campaigns was crucial for achieving initial growth and sustaining continuous expansion within the Apple ecosystem."
Jamie Fox
Treecard, Co-founder & CEO
Want to scale Apple Search Ads and reduce cost per install?
Reach out to us!
Focus on App Store Optimisation
Updating your app's metadata can positively impact both organic and paid search.
Test and monitor your keywords
Invest on the keywords that convert and review them regularly.
Make sure that your app is in the right category
Increasing relevance is key to rank high on the App Store feed and win Apple Search bids.
Strategic App Growth Experts