How do you develop an ABM strategy?
An ever-growing number of B2B companies harness account-based marketing (ABM) as part of their growth and retention efforts. A strategy that perfectly complements the traditional, short-term marketing goal of generating leads, ABM aims to drive long-term revenue. And yet, while 92% of B2B organisations plan to start an ABM program, only 19% are confident in their ability to execute it.
The online platforms we use continue to evolve, and that dictates the strategies we create. Combining account-based marketing principles and a prospect-centric approach, B2B lead generation and ABM services apply ABM principles to cold outreach strategies to maximise results from channels that have previously been poorly executed upon.
60% of companies report at least a 10% increase in revenue in year one of their ABM programme ( Demandbase).
Today, we're going to guide you through the basics of ABM, explore how adopting a new marketing approach can amplify your current strategies, and provide you with step-by-step instructions for developing an ABM plan for your business.
What is account-based marketing?
Businesses are constantly fighting for the attention of potential customers. Marketing is no longer a one-way street; to raise brand awareness you need to engage in an active dialogue with your target accounts — and ABM facilitates that.
Account-based marketing is a focused approach to B2B marketing, in which marketing and sales teams work together to target best-fit accounts and turn them into customers. If your goal is to generate the highest possible ROI, you need to secure high-value accounts. By aligning marketing and sales, your business will establish the communication lines and data required to develop a prioritised list of target companies that you should focus on, and create a cohesive buying experience to generate more opportunities for sales.
87% of B2B marketers surveyed by ITSMA reported that their ABM initiatives outperformed their other marketing investments in terms of ROI.
As ABM continues to grow in popularity thanks to its incredible success, B2B marketers have developed three distinct types of account-based marketing better suited for different companies that fit different criteria. The program you focus on might depend on geographical factors, revenue, size, technographic information, engagement levels, and search intent data — like what employees of target companies are searching for. You weigh the criteria, score your prospective clients, and apply the best approach.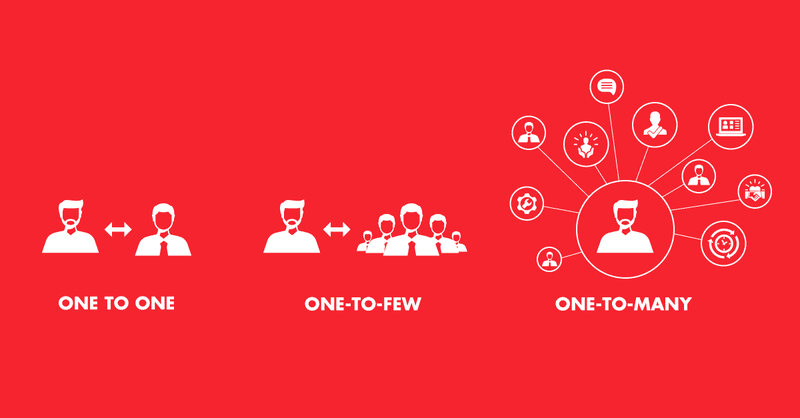 One to one
An approach usually reserved for key strategic accounts, and executed on a one-to-one basis. Senior-level sales and marketers will build stronger relationships with a company's most valued customers and prospects through highly targeted marketing. This type of ABM is done with clients, not to them, to drive value for both companies.
One-to-few
Typically applies the same research-based principles of one-to-on ABM to groups of strategic or second-tier accounts. These types of campaigns focus on small groups of 5-15 that share similar business attributes and challenges, rather than individual accounts.
One-to-many
The latest addition to ABM, one-to-many, targets potentially hundreds of accounts using state-of-the-art technology to deliver personalisation at scale. Technology is imperative to provide an industry-leading one-to-many campaign, but it allows coverage far beyond its counterparts with just a single marketer.
It's your strategy. ABM your way.
Every company has vital accounts — the high-rollers and early adopters that require attention and more personalised service. But, most organisations are unable to provide comprehensive one-to-one account-based marketing campaigns to a fraction of their accounts.
That's where a blended approach comes into play. Using a one-to-one strategy on your most valuable clients allows you to nurture those relationships, while implementing an effective one-to-few or one-to-many ABM programs for your other prospects will ensure continued growth — combining depth and breadth for unparalleled efficiency.
Account-based marketing vs. traditional marketing
While the ultimate goal is to secure long-term sales, how businesses gain customers using ABM is inherently different from traditional marketing. Marketers utilising ABM work closely with sales to identify key prospects instead of casting a wide net for lead generation.
Let's assume you sell a high-end SaaS product or consulting service. Traditional digital marketing would have you targeting all small businesses, SMBs, and enterprises within an industry using very lite criteria. ABM, however, draws your focus to accounts that have the highest need and the required budget, drawing your attention to only the best prospects.
Instead of bombarding all of your LinkedIn contacts with a range of automated messages to generate sales, you nurture your key clients with tailored messages and relevant content that buyers are more likely to engage with.
In traditional marketing, you've reached the end-game. If you're lucky, some of your target account list will engage with your content, and you could make a few sales. However, with ABM, you continue to build on your new relationships, create sustainable sales opportunities, and drive further organic growth following positive feedback.
83% of marketers say ABM increases engagement with target accounts ( Demandbase).
The benefits of ABM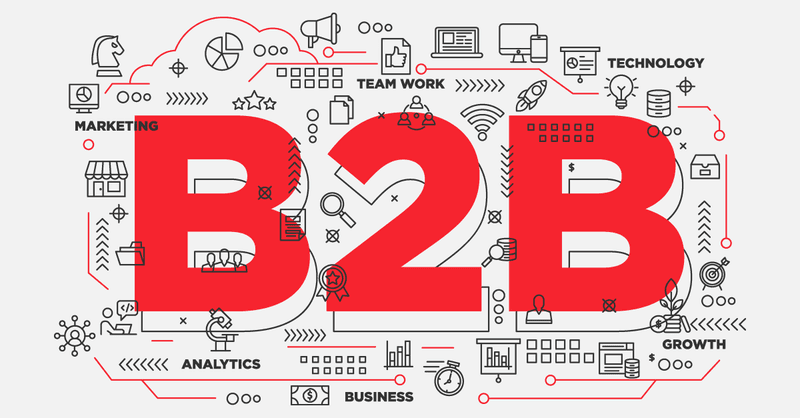 While account-based marketing could be implemented by a wide-range of organisations, it's most useful for B2B strategies. Let's say you sell a high-value service or product. To sell that product, you'll need to build trust, outline its value, and convince the prospect before you can convert them into a customer. A blended approach of outbound marketing and account management is the perfect combination to drive sales.
Aligns sales and marketing teams
Everyone's essential in ABM. Execs, marketers, sales and tech professionals — by focusing on common goals and metrics, you'll improve communication between all departments. By organically aligning your teams, sales receive higher-quality leads, and marketing receives recognition of their impact.
Optimises marketing and sales efficiency
Account-based marketing is highly data-driven. And, all that data allows your teams to develop efficient campaigns. With ABM, marketers saw a 70% increase in the number of opportunities created (Gartner), and delivered a 50% reduction in sales time (Marketo).
Accurate measurements
You'll have fewer metrics and KPIs to track after implementing an effective ABM strategy. Goal-setting and analysing data becomes easier when you've got a smaller number of accounts to monitor, and detailed, in-sync efforts make it easy to track overall progress, with clear connections between campaigns and pipeline revenue.
Shorter, more profitable sales cycles
By eliminating low-value prospects early and targeting specific high-level decision-makers, you can quickly process suitable candidates through the sales funnel. And, when you focus only on the best accounts, you'll sign the customers who are willing to pay more for your services.
Better qualified opportunities
If driving growth is on your agenda, you'll need to generate new leads. ABM campaigns let you target the most receptive prospects from your account list, ensuring higher engagement with Marketing Qualified Leads (MQL) and Sales Qualified Leads (SAL) every time.
Drives efficiency
Account-based marketing saves time, effort, and ad spend by providing your marketing teams with more data than traditional strategies. In fact, The B2B Lead found that nearly 50% of sales time is wasted on prospecting that is unproductive.
Developing an effective account-based marketing strategy.
Step 1: Define your goals, objectives, and ABM metrics.
If you're implementing account-based marketing, it's best practice to agree on the goals and objectives of your ABM program with stakeholders first. Who's the target audience? What's your industry, company size, budget, location, what's your average customer lifetime value, and what are your biggest challenges? If you already have an established database of key accounts, you should assess, detail, and score them to determine their likelihood of buy-in.
Step 2: Determine your ICP
Now that you've defined your expectations from an account-based marketing program, it's time to establish your ideal customer profile (ICP). Without identifying your ICP, you could be targeting the wrong businesses.
You should start by calculating your minimum customer profile (MCP). A B2B SaaS vendor targeting retailers that require search marketing might have an ICP revenue of £15 million per year. That's ideal, but an MCP might include retailers spending just £1 million per year. This doesn't always dictate whom you should exclude but informs better decision-making when considering time and content investment into lower-valued companies.
Step 3: Align your sales and marketing departments
The essential component of every successful ABM strategy is the core team. You'll need sales and marketing to work together to identify specific accounts and opportunities and to support the campaign throughout the entire customer lifecycle. It could be a good idea to run a pilot program before your first ABM campaign to monitor the marketing and sales cycle for key performance indicators before you go live.
Both teams will need to align on:
The tactics employed to drive interest and action

How many and which team members should reach out to each account

The specific messaging used with each prospect

At what point the sales team should attempt to close
Step 4: Establish your engagement strategy
Are you going to place all of your resources in a one-to-one strategy to maximise your returns? Are you looking to drive considerably more qualified leads with one-to-few or one-to-many? It might be that a hybrid approach works better.
Remember, while ABM is a great way to grow lead generation, it's also an effective way to drive revenue from your current customer base. The 80/20 Pareto Principle applies to a number of B2B companies, with studies finding that 80% of revenue comes from just 20% of a business's customers. If you aren't putting effort — and budget — into the right strategy, you might be leaving money on the table.
Step 5: Create and distribute account-based content
When you choose a personal approach like account-based marketing, it's imperative that you create content to support your marketing and sales efforts. Campaigns can utilise various tactics, including email, direct mail, ads, and more, to increase click rates and create new leads. Building trust with your clients is essential, so include case studies in your content planner. And, since relationships are at the core of ABM strategy, you should use them to guide your outreach.
Step 6: Select ABM support tools
A comprehensive marketing automation platform, like DemandBase, and a supporting collective of ABM experts that share data across departments form the backbone of your account-based marketing strategy. Make sure to plan your strategy before engaging your technology, or you could hinder the planning process.
Purpose-built artificial intelligence provides insight into how, when, and where your customers prefer to engage with you — efficiently and effectively managing your sales pipeline.
Automation doesn't mean low-quality content, either. A truly effective marketing strategy blends a people-centric approach with smart automation systems to lighten the load. That's why lead generation professionals like those found at Kurve prioritise getting to know you and your clients to achieve meaningful, targeted results.
Accelerate your ABM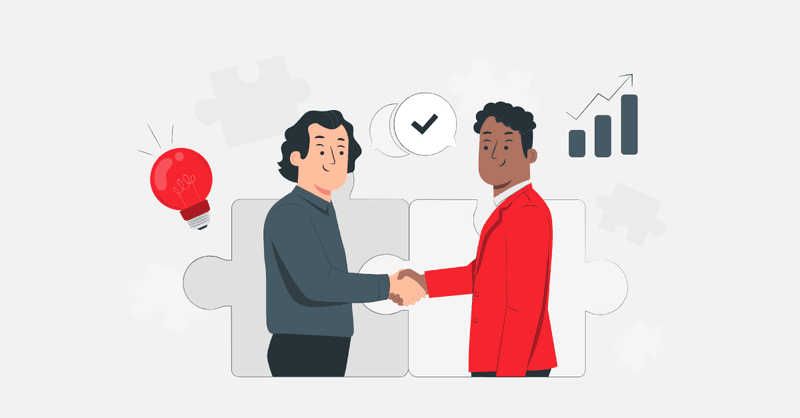 Traditional marketing on its own, is less effective than it once was. Today's business leaders respond to a blended approach, using targeted, focused, and relevant content. They want sales teams that don't just know their product but understand their clients' needs. All of this requires a constant flow of information, a system that supports your growth, and a team with the skillset to drive new opportunities through in-depth research, creative strategy, and actionable reports.