How does app store optimisation work?
Search plays a considerable role in how users discover and download content on app stores. In Q1 2021, over 5.5 million apps were available on Google Play and Apple App stores, and by Q3, more than 35 billion downloads were on more than 3 billion smartphones. While that sounds like a lot, that averages out to just seven app downloads per user. If you want to ensure your app is one of those seven, you'll need to get strategic with mobile app marketing.
This article will discuss why app store optimisation is essential, achieving higher app store rankings, and tactics used in robust ASO strategies.
App Store Optimisation
Like marketing teams use SEO to improve organic search rankings, app developers use app store optimisation techniques to drive installs and increase conversions.
Fundamentally, ASO focuses on improving the visibility of your apps within stores such as Apple's App Store and Google's Play Store. Increasing impressions, encouraging organic growth, and generating new customers are all tactics used to support other goals such as traffic, downloads, or in-app purchases. Adapting your app store page is crucial in developing more organic downloads, lowering your user acquisition cost. And with more installs and interactions comes more visibility.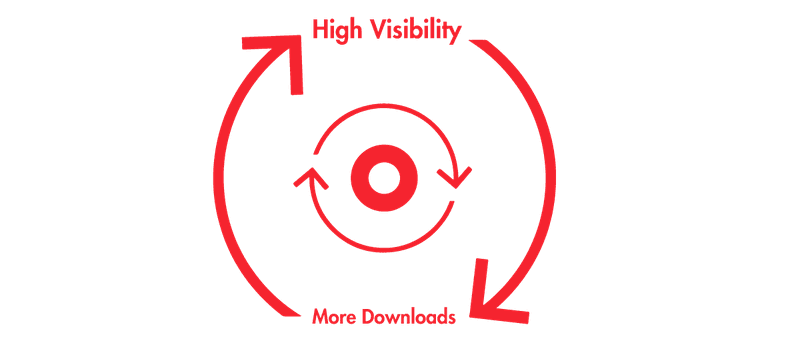 Creating an effective strategy requires a critical understanding of how each store works, the target user base, and the most relevant keywords used to find apps or discover new ones.
How important is App Store Optimisation?
Without a working ASO strategy, you're going to face an uphill battle. Like SEO, ASO fails if not backed up by value. While you should celebrate installs and conversions, 21% of users abandon apps after one use, and only 5.7% of users keep the app after 30-days post-install.
By optimising your application page, you can ensure a higher percentage of downloads come from prospects who see the value in your product before using it. A recent study of retention rates in 15,000 applications found that retaining organic users was nearly 2% higher eight weeks post-download.
You'll need to rely on ASO when it comes to beating your competition, too. You may need to deploy some abstract tactics, like looking at ways to advertise your application that achieves better results than taking on much larger competitors directly. For example, if you're creating a mobile video editor, you need to think of audiences that might search for terms where apps like Adobe Rush wouldn't show.
Key Benefits of App Store Optimisation
What are App Store keywords?
According to Apple, 65% of downloads come directly from search – and keywords play one of the most critical overall roles in search rankings. Keyword Optimisation means strategically finding the terms, words, and phrases to gain maximum app exposure.
What your keywords should include

What are ASO techniques?
If you've ever worked with SEO, you might be surprised to discover that traditional search engine optimisation tactics apply to ASO. Like SEO, several specific optimisation areas within app stores, including Google Play and Apple App Store, can be targeted to increase the visibility of your app.
While app store features and input fields will vary, these are the core optimisations you'll need to focus on:
Title Titles are the most critical metadata for driving more downloads. You should write a title under 30 characters to ensure the full caption is visible on the app store search results. Your title must include your company's name alongside some of your highest ranking keywords. Remember, if you have industry-leading competitors, you'll want to consider keywords that offer a higher rank of different searches.
Subtitle The second most crucial metadata. You should include the closest ranking keywords to your title in the subtitle. Try to use as many keywords here as possible, but be cautious not to fill it with gibberish. You only have 30 characters on the iOS App Store, and 80 characters on the Play Store. Remember, listing keywords without offering a valuable takeaway is unlikely to connect with new prospects.
Description The description helps to define your application and expand on its purpose. It has to be engaging, so consider telling your brand story here and the reasons you developed your app. If available, remember to use some social proof and always identify what problem the app aims at solving.Using icons can make the article seem less copy-heavy, and a small list of the main features is a great way to summarise your USPs. And, most importantly, include as many relevant keywords in the first 250 characters as possible. Anything beyond the initial description is hidden behind a "read more" page extension. Once you have your best possible description, run A/B tests on Google Experiments, Google Play, or another ASO tool.

Keywords Apple's App Store allows you to include up to 100 characters of keywords within a specified keyword field, while Google's Play Store indexes keywords within other content elements, like your description and title.Using an intelligent tech tool like Apptweak or Sensor Tower, you'll need to run extensive competitor research and use keyword analysis. If you're relatively new or work in a niche, don't try to take on app giants like Instagram or Adobe. Focus instead on companies more prominent than you but not out of reach. Understand which keywords are driving installs, growth, and conversions, and rank them based on volume, difficulty, monthly install possibilities, and the difficulty of your competition.

Images and video This is your opportunity to showcase your app even before a user has clicked onto it. And, if your company has creative branding, there's a real opportunity to create visuals that give you a competitive edge. Thumbnail images and screenshots - especially the primary image - used to promote apps will directly impact click-through rates (CTR). Make sure screenshots are designed and created by a professional, as they can significantly improve results. And use A/B testing to evaluate the effectiveness of screenshots, influencing future designs to maximise conversions.If possible, you should include social proof in some of your images. Calls to action relevant to your application are essential and highlighting the headline features are a great way to increase clicks. If you're going after multiple markets across the globe, make sure you proof all images to make sure they're localised. Sometimes, trends and branding don't translate well, which could confuse customer segments in various regions. Always A/B test the first two screenshots to ensure optimal performance. Remember, a good first impression could increase conversions by 35%.

Reviews and ratings Reviews and ratings are a significant indication of your app's popularity, quality, and reliability – the lower your ratings, the lower your search placement. Deciding when to ask users to review is a great way to encourage better rankings. A push notification restricted to positive outcomes is a great way to drive higher ratings. However, if a customer has a negative experience, direct them to online surveys instead, providing development teams with the data they require to fix issues and mitigate bad reviews. Support tools inside the app, like Instabug, help increase reviews and ratings by allowing customers to vent to your support team instead of other potential clients. Answer questions and negative reviews to show that you're responsive and actively looking to help clients, try to generate as many reviews as possible, use reviews to influence future keywords.

Downloads Downloads equal downloads – it's a loop that you need to enter at some point. Increasing visibility is the greatest way to drive downloads, and getting your app into a store's "Top 10" list is sure to bump your installs. There are two lists: one for top performers in general and another that's industry/category-specific. You can use paid clicks to reach a good position in the category ranking, which will increase organic downloads in the future. Let's say you have a lifestyle app; you could use Apple Search Ads and Google Ads together to increase paid installs, thus increasing your position in the lifestyle category and, in time, lowering the amount you have to pay for installs.

Analytics ASO is an ongoing process. Now that you've completed your first round of optimisations, it's time to measure your performance. Re-evaluate your competitors, use a mobile measurement partner (MMP) to track your paid ads, break down every revenue action, especially at the keyword level, and study data to revise ASO and drive revenue. Just like SEO, you'll need to fine-tune your strategy to see what works continually.
How do I optimise my app store search?
In September 2021, developers released approximately 75,000 mobile apps through the Google Play Store. Competition is fierce, and you're going to need a solid app store optimisation strategy if you want to come out on top.
ASO is a continual process, but, done correctly, it can increase the visibility of applications, reach new audiences, and drive organic installs. Implementing the core techniques we've discussed are critical while optimising and building ads, especially exhaustive keyword research, to ensure audience targeting is efficient and effective. ASO can also boost paid performance by improving relevance and conversions for Search Ads. Alongside organic results, it creates a loop of growth.
App store optimisation has cemented itself as a powerful mobile application marketing tactic. While anyone can attempt to build a good strategy, it takes a considerable amount of time to master the process. We've perfected the art of getting apps into the hands of organic clients and users with real lifetime value, evaluating and analysing each client and their competitors to build bespoke strategies that achieve goals.
Speak to a member of our team to build your ASO strategy.