LinkedIn Jobs vs Recruitment Agencies: Why Marketing Leaders Prefer a Hiring Platform
In recent research, we discovered that 45% of marketing leaders choose their own personal networks as their favourite hiring channel for recruiting senior marketers. Online jobs boards are the most disliked channel, with 55% selecting this as the worst hiring channel for marketers in the £40-60k wage bracket.
I'll dig into these findings in another post soon (update: check it out here), but here I want to talk about a different piece of insight we gleaned from our research: marketing leaders prefer LinkedIn Jobs to recruitment agencies.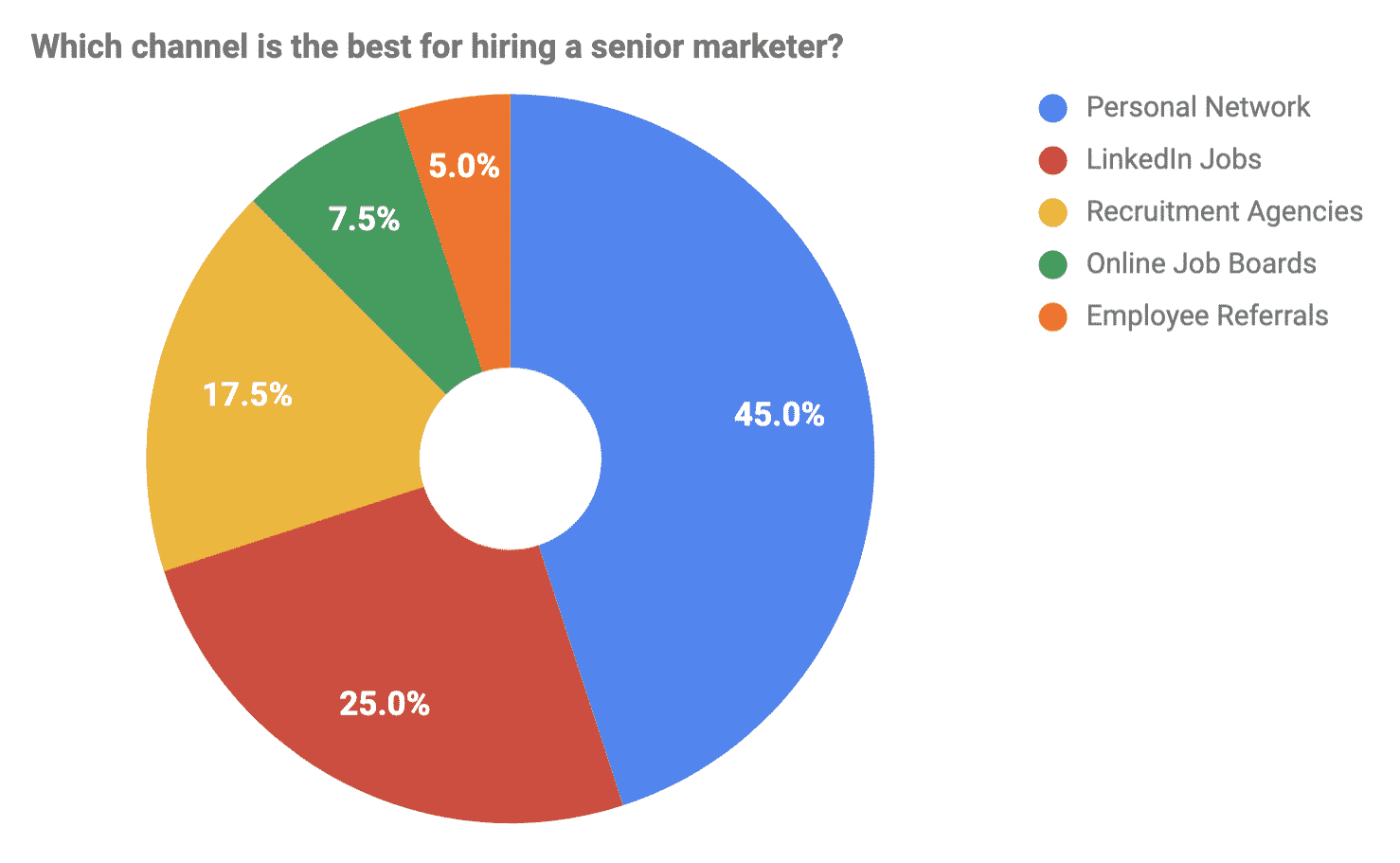 When we prepared the research questions, I predicted that personal networks would be the winner among marketing leaders, which turned out to be correct. But I also had a hypothesis that recruitment agencies would easily give personal networks a run for their money. Not so.
In fact, LinkedIn Jobs was the preferred channel for 25% of our respondents, while recruitment agencies only managed to snap up 17.5%. And in our question about which channel is the worst for hiring senior marketers, recruitment agencies came second with 25%, behind online job boards with 55%.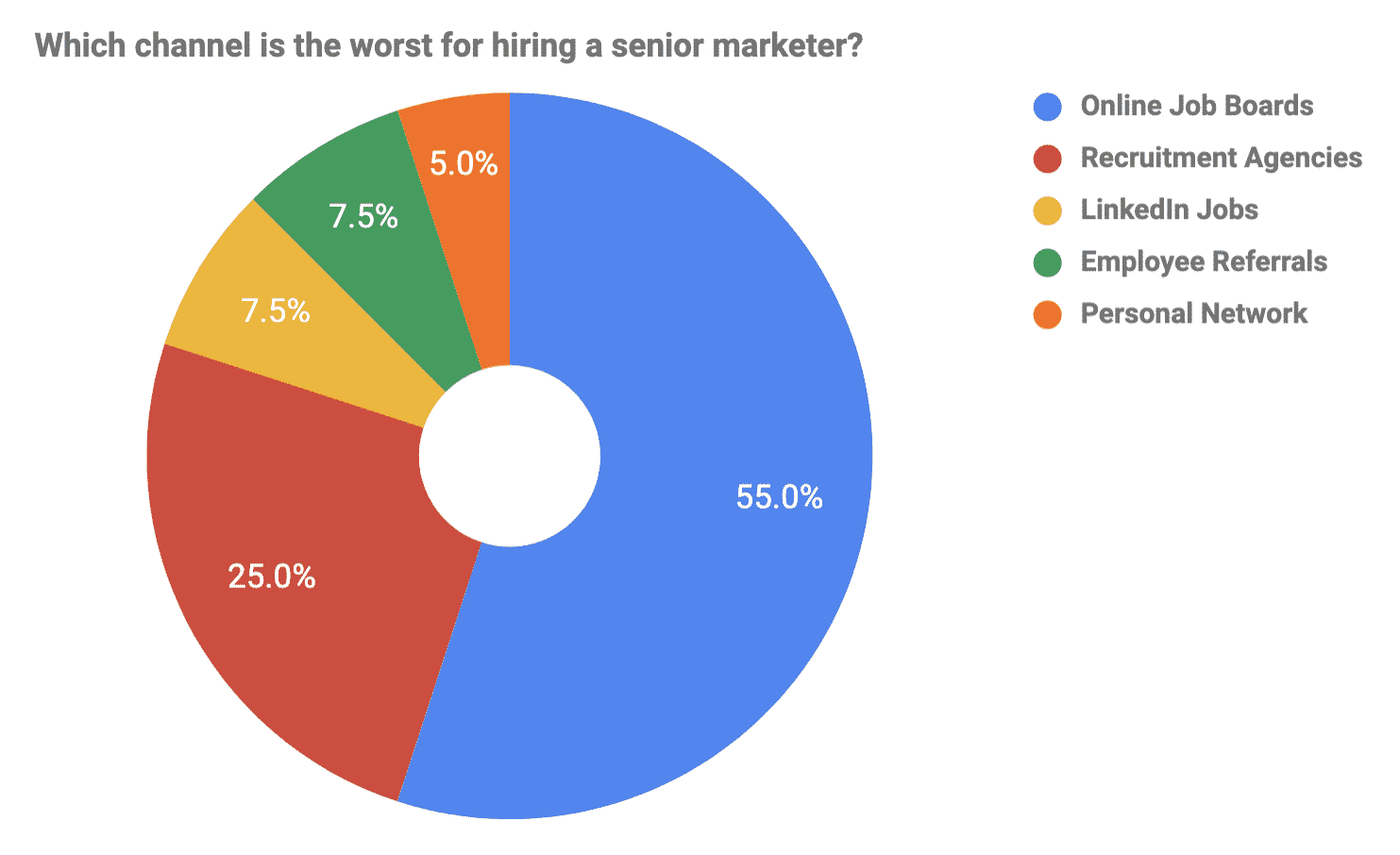 This lack of enthusiasm for recruitment agencies is reflected in Google Trends data, which shows a downward curve in searches for "recruitment agency" and "recruitment agencies" – in contrast to an increase – and subsequent levelling-off – of searches for "LinkedIn Jobs":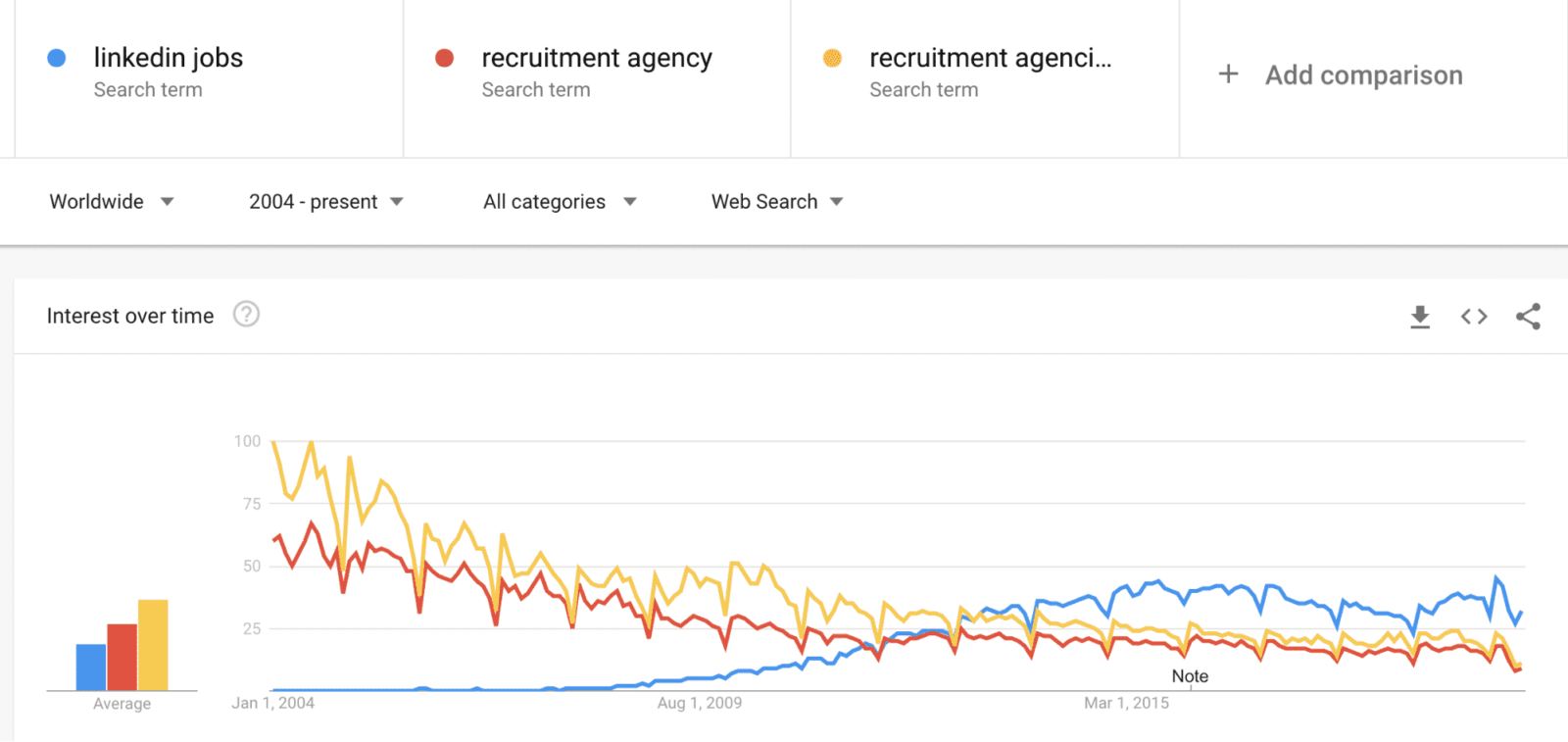 What's Wrong With Recruitment Agencies?
According to our qualitative research, marketing leaders have four main problems with using recruitment agencies for hiring senior marketing staff:
Costs

: Lack of value or return on investment

Assessment

: Inadequate candidate assessment

Understanding

: Lack of knowledge about the role

Interests

: Misaligned objectives
Let's look into each of these perceived problems:
1. Costs
Recruitment agency fees tend to work out at between 20-30% of the candidate's salary. So, if we're looking at 25% of a £40,000 wage, that's a £10,000 investment. Naturally, these costs vary depending on the position and the services that an agency offers – but this percentage is a solid ballpark figure.
Now, this outlay sounds high – but the cost of a bad hire is actually far greater. As well as the obvious loss of productivity, bad hires can damage morale, harm customer relationships, and increase staff turnover – in their own team and throughout the organisation.
So, if using a recruitment agency significantly mitigates the risk of a bad hire, it's worth the investment.
And therein lies the problem...
2. Assessment
According to one of our respondents, most recruitment agencies "don't take the time to know the candidates." She continues, "they're not putting enough screening time in, and it's just a case of getting the CVs over and pushing candidates into positions that aren't necessarily right for them."
Another criticism is that recruiters simply use the same jobs boards that are freely available to anyone.
In fact, two separate respondents accuse agencies of sourcing candidates from Indeed. This means that they fish from the same pool of existing jobseekers, and just fire CVs over and hope one fits the bill.
"Some agencies want exclusivity on the job and then do little work to get the right person – so you're losing time. Others seem to miss the brief on the individual you actually need, so you spend a good while interviewing the wrong person," one marketing leader says.
3. Understanding
Some marketing leaders from our survey believe that giving up control of the hiring process means they put recruitment in the hands of people who don't understand the job requirements.
They complain about recruiters "not selling the job correctly," as well as "not having the ability to identify the traits that work within our industry." Another respondent suggests that recruiters don't understand the value of candidates because they lack the contextual knowledge to make a judgement.

4. Interests
Multiple respondents say that hiring companies and their recruitment agencies aren't naturally aligned in motivations. Most notably, recruitment agencies are said to be focused on speed and efficiency, and are willing to sacrifice quality for a high volume of CVs and a quick turnaround on the hiring process.
According to one marketing leader, "this fast churn means that candidate CVs are miles off the mark. It seems like agencies are more interested in the 'spray and pray' approach; sending a ton of candidates to the company and hoping one makes the cut."
Key Takeaways: The Criticism of Recruiters
It's true that good recruitment agencies are innocent of the accusations levelled at them by our respondents, but it's still true that from our research, only a small proportion of marketing leaders (17.5%) see recruiters as the best hiring channel for hiring senior members of their marketing team.
This is surprising in itself, but the fact that our research shows recruitment agencies as the second-worst hiring channel is even more damning. We knew that the chaos of jobs boards wouldn't appeal to marketing leaders, but thought that recruitment agencies would be a popular partner at that level.
What Makes LinkedIn Jobs (Talent Solutions) Appealing?
According to our survey, the single biggest benefit of LinkedIn is the reach – the vast pool of potential candidates that can be targeted. With 675 million monthly users, "LinkedIn has the widest possible coverage, and any serious marketer will have a detailed and up-to-date profile on the platform."
The second aspect of LinkedIn that gets mentioned is its cost-effectiveness for sourcing talent.
With a variety of models and pricing structures available, investment on LinkedIn can be scaled up or down depending on what the hiring company needs to do to attract the right candidates. This is mentioned by respondents as an appealing prospect, certainly in light of costs associated with recruitment agencies.
The third most popular aspect among marketing leaders influences both the reach and the cost-effectiveness: the quality of targeting. Hirers are able to set detailed targeting criteria, and LinkedIn will automatically put their job advert directly in front of world-class marketing candidates.
So among marketing leaders, LinkedIn seems to have three key advantages over recruitment agencies:
The biggest candidate pool (also including non-jobseekers)

Scalable investment with lower costs

Effective targeting capabilities
It's hard to shake the idea that an effective recruitment agency would offer these same benefits. But my interpretation is that as the hiring platforms (like LinkedIn) get better, recruitment agencies have to work harder to justify their involvement in the talent sourcing process. This puts them on the back foot.
First and foremost, lack of transparency is no longer tolerated by hirers – and agencies need to be clear about where they add extra value as a business partner, above and beyond sourcing candidates.
Side note: In separate research, we scraped 1200 LinkedIn job ads, and found that 60% of them were run by recruitment firms. This suggests two things: they use the platform as a major tool for recruiting, but also that recruiters are still a major part of the ecosystem.
It also begs the question: if recruitment agencies use the platform that marketing leaders love, why are the results perceived to be so different?
Are They Really That Bad? In Defence of Recruitment Agencies
Despite what we've discovered through our survey of marketing leaders, the recruitment industry is booming – or at least it was before the COVID-19 crisis floored the global economy.
2019 saw nearly 8,500 new recruitment agencies set up in the UK – up from just over 2,500 registered in 2010. And in the financial year up to March 2019, the UK recruitment industry turned over nearly £39 billion – which is a record.
Interestingly, £33.4 billion was generated through temporary or contract placements, and only £5.5 billion was generated by securing permanent placements.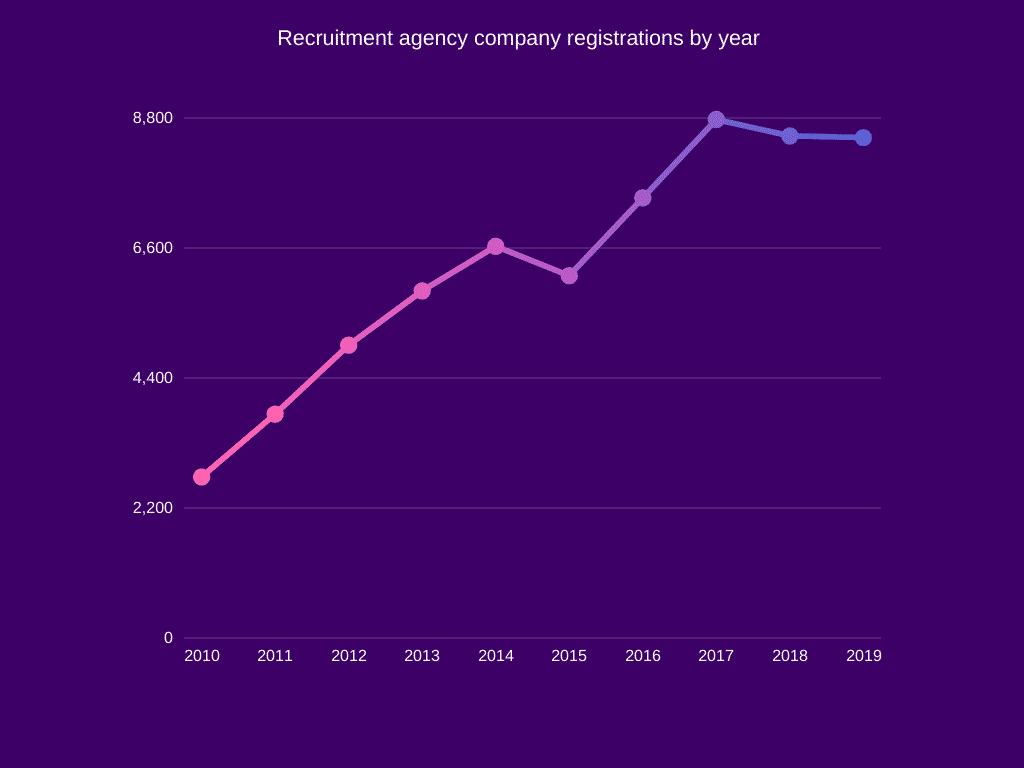 Source: Sonovate
17.5% of our marketing leader respondents voted recruitment agencies as their favourite recruitment method for hiring senior marketers. While that's fewer than we might have expected, it's worth looking into the reasons why – and to see whether there are common or contrasting themes.
Firstly, these marketing leaders see recruitment agencies as their headhunters and cajolers. "The best talent needs to be convinced to move on, and encouraged to move in a certain direction," one said. And another answered "hidden gems are usually not actively looking for a job, so they need to be headhunted and sold to." In a nutshell: recruiters help businesses find marketers who aren't job-hunting.
Even when talented senior marketers are job-hunting, "job sites never seem to attract people at the top level." And therefore, hirers have to do more digging to find the right people. Recruiters can be the ideal partners for this digging – alleviating pressure on senior management to source interview candidates.
According to one respondent, "if the recruiter understands the role and company, and knows the skills and competencies required, it makes it much easier to refine the search upon having had initial interviews. Refining the search might include verticals, personal drive, cultural fit, or skills and competencies missing from the initial spec. A good recruiter will do a lot of filtering out."
And that's the caveat right there in a nutshell: a good recruiter.
Summary: What Can We Learn?
Our survey indicates how marketing leaders see the various recruitment channels when they're hiring a senior member of their team. And it seems like recruitment agencies have taken a hit due to the rise of LinkedIn as a hiring platform – and also their preference for using their own personal networks.
The results will certainly differ across industries and for different jobs and seniority. For example, many respondents suggested that the jobs boards are suitable for junior hires – and some mentioned that LinkedIn is effective for hiring marketers simply because they're active and engaged on the platform as part of their job. The same would not be true of accountants or estate agents, for example.
The main takeaway is this: recruitment agencies need to work harder than ever to convince senior management that they're worth the investment. Platforms have disrupted the game, and given companies easier access to a global pool of talent. The recruiters not adding value will get left behind.
---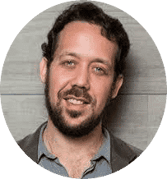 If you want to build a world-class marketing operation, get in touch with Kurve today. You'll benefit from our experience, knowledge, and strategic frameworks – and you'll access new levels of sustainable growth through digital channels.
As part of our research, we surveyed 40 marketing leaders. Huge thanks to the following respondents: