SEO Vs PPC: Advantages, Disadvantages & When to Use Them
Google processes an estimated 5.6 billion searches every day. That's 63,000 searches per second. If you want to drive traffic and guarantee engagement, you'll need to employ several techniques to gain the upper-hand on your competition. But underlying every good strategy is a fundamental debate: search engine optimisation (SEO) versus pay-per-click advertising (PPC) or paid search.
While it appears to be a simple question of time versus money, there are many important considerations that should play into your choice.
In this article we'll explore the main difference between the two strategies, cover the pros and cons of SEO and PCC, and take a closer look at how they can work together to provide a winning strategy for your business.
What are the main differences between PPC and SEO?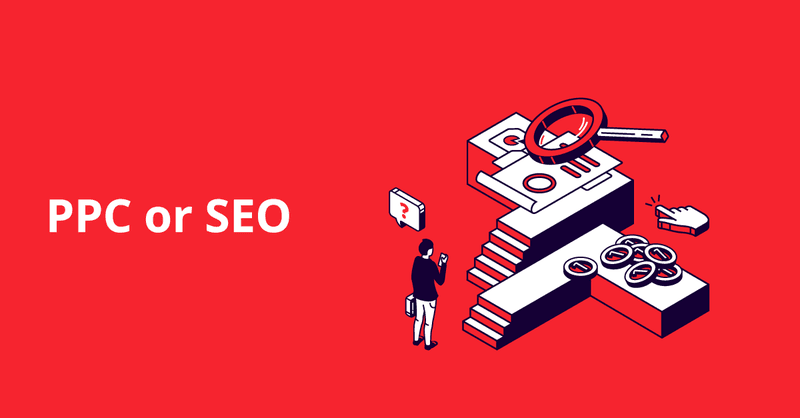 SEO and PPC are the two most common forms of digital marketing that link to search engine results, but they're very different beasts. On one hand, you have SEO's more organic approach, where you gradually cultivate an audience, strengthen trust, and build your brand awareness. On the other hand, PPC lets you buy prominent positioning on search pages, like Google, potentially bringing much larger audiences to your website.
Most marketers will recommend SEO, based on the lower entry cost – you can get started on your own with limited knowledge. Experts, like Kurve, know that it's not that clear-cut, preferring a tailored and often multi-pronged approach, supporting clients' individual needs.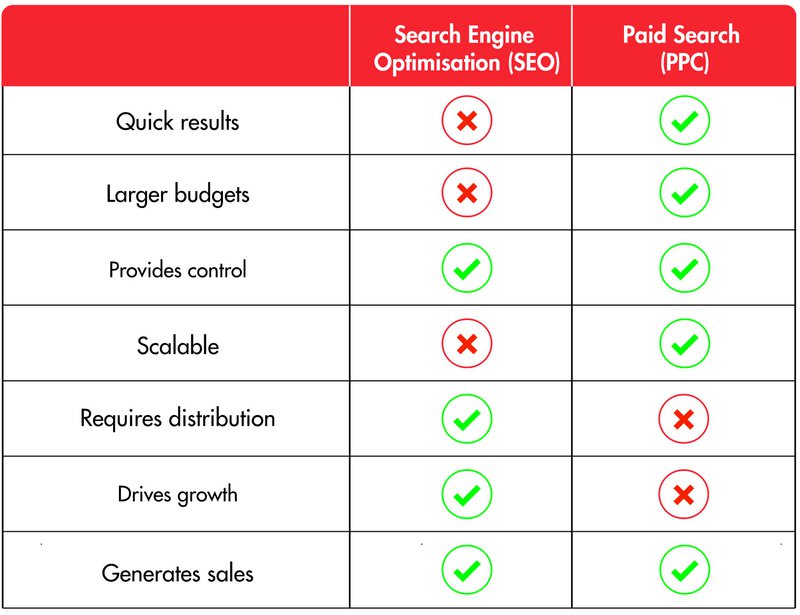 What is PPC?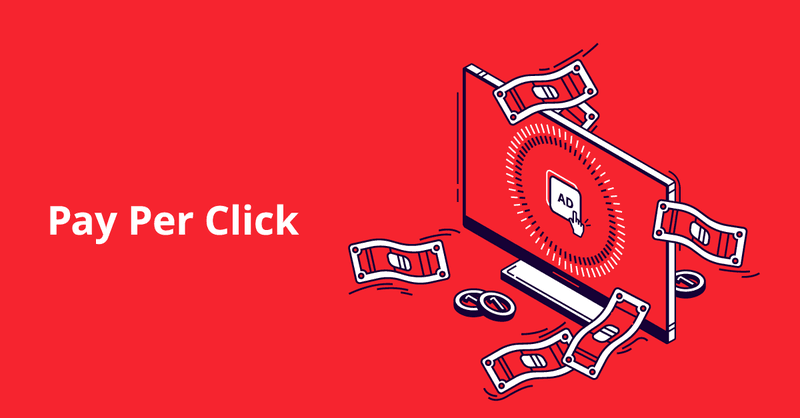 PPC advertising - or click advertising - by contrast, is more of a quick jog round the park than an arduous marathon. Rather than focus on rankings, PPC lets you purchase user clicks from search engines like Google, driving traffic directly to your site.
Your PPC ads will show up in a sponsored results section when people search for key commercial terms. If they click on your ad, that's when you're charged. Your PPC rankings are determined by a number of factors: competitive bidding on particular keywords, the quality of your adverts, and the relevance of the destination landing pages.
Where SEO is centred around investing time to tailor your content to people's searches, a PPC campaign ensures immediate results and conversions on your website.
Advantages
Easy to scale
If you're using Google Ads, scaling things up is much easier than trying to increase your SEO output. You set your budget based on lead generation. Then, the more money you pay – either by targeting more keywords or adjusting your daily budget – the more clicks you'll receive.
Get instant results
With an effective landing page in place, you're bound to see significant results almost immediately. This is particularly important for new businesses keen to establish themselves and rise above the competition, as well as short-term promotions you want to draw attention to.
Take control
With PPC ads, you're in the driving seat. You can allocate an appropriate budget, choose where you're directing visitors, craft a suitable ad that conveys all the relevant information, and specify placement and location to maximise the chance of clicks.
Test your ads
Unlike SEO, it's easy to conduct A/B testing, an extremely important tool, with a PPC campaign. You can create two different approaches and run them both. Even a miniscule increase in CTR can have an immense impact on sales.
Easy to get started
While there's a lot to learn when it comes to effective PPC, it's much less brain-busting than SEO. And whether you're hiring experts to help or running your own campaigns, you'll have professional support from Google to keep you on track.
Bring in the buyers
Paid search advertising is king when it comes to conversions. By using keywords that target prospects at different stages of the sales funnel, you'll increase click-through rate and experience a higher level of engagement.
Disadvantages
Ongoing expense
With PPC ads, you pay for every click. If those clicks lead to conversions with a relatively low cost per acquisition, then maintaining PPC campaigns will make solid business sense. Working with PPC experts can help you mitigate losses, and ensure your ROI is higher than your ongoing expenses.
Out of your budget
If you're trying to generate brand awareness, then PPC may not return the results you're looking for. Companies trying to build awareness will want to appear as often as possible, requiring them to pay for a much larger number of clicks. For small businesses, the potential gains of a PPC brand awareness campaign are significantly outweighed by the financial commitment.
Lack of knowledge
With Google Ads, there's a huge amount of information to learn right away – from negative keywords and bids to CTR and ad groups. Since Google is usually the most expensive advertising channel, it's essential to optimise and tweak your campaigns with the help of professionals.
Lower growth
While SEO takes longer to deliver measurable results, the potential to grow your client base can be much higher than with PPC campaigns. PPC ads will only display while you have the budget to maintain them, and they produce the best results when they have a goal, like selling a product or service, in mind.
Negative perception
For many potential customers, the ad tag is objectionable and they might refuse to click on your PPC ad purely for that reason. However, according to Ofcom's Adults' Media Use studies, in 2020, only 49% of search engine users correctly identified sponsored links on Google search results.
Requires higher margins
There's no denying that Google Ads campaigns could be costly for businesses. And while working with an expert can ensure your campaigns remain profitable, selling higher-priced products is a sure-fire way to cover the cost of unprofitable clicks. Comparing your customer lifetime value to your campaign costs
When should I choose PPC?
There's no incorrect time to use PPC – ads will always drive traffic – but it's worth considering when it's best to invest. If you have money to spare when you're starting out, a PPC campaign could cause a traffic surge in under a week of setup — perfect for increasing revenue and getting you off the ground, while you work on improving organic traffic. It could even help with A/B testing, monitoring which product names or content resonates with clients. But remember, if you're developing a ground-breaking new product, people might not be searching for what you're selling.
If your business is already established, you might already rank well for specific keywords – running PPC campaigns for these could help increase your CTR. You can also invest in PPC ads to focus on the keywords where your business ranks poorly.
To create powerful PPC campaigns, many businesses rely on experts like Kurve to take care of paid search management – leveraging automation, remarketing, and display optimisation too.
What is SEO?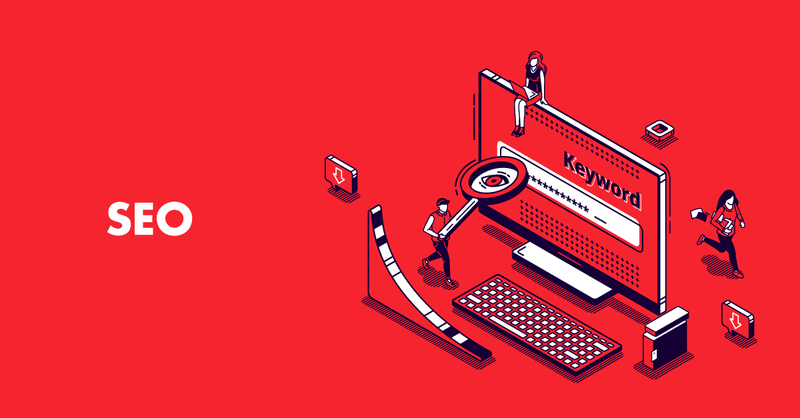 SEO is all about making the most of how search engines like Google or Bing work. By optimising your web pages, you can improve their ranking in results, which will naturally drive new leads to your website.
Unfortunately, SEO is always changing. Making the first page of Google is dependent on trends, ranking factors, and search engine algorithms. To please search engine crawlers, some of the most important considerations include having a responsive design, a fast page speed, backlinks and internal links, as well as ensuring accessibility.
When it comes to individual pages and marketing content, on-page optimisation is vital too. That means targeting keywords – including in titles – incorporating video and audio, and making sure your content is original and offers real value.
Advantages
Invest less
If you're prepared to put the time in, SEO campaigns can be a much more economical option than PPC. You won't need a dedicated budget, making your 'advertising' as close to free as possible. With potential future customers already searching for you, you can generate content to match, making it much easier for them to find you over the competition.
Enjoy impressive returns
Whether you're investing your own time or paying an expert like Kurve, your business is guaranteed a good ROI. By ranking highly for specific keywords, you stand to see a significant increase in clicks over PPC, leading to new customers. People are more likely to click on organic results than ads for the same search terms.
Improve your website
Focusing on SEO strategy helps you to bring customers to your website, creates a more user-friendly experience, and converts potential leads into sales. But, while you'll focus on generating leads, the knock-on effect will be a considerably more accessible site that follows best practice.
Tailor your content
Like PPC, SEO lets you rank for your preferred search terms, including long-tail keywords, helping target content more specifically. One benefit of SEO over PPC, however, is the potential long-term click-through rate (CTR) of high-ranking content that won't cost to maintain.
Build your brand, value, and trustworthiness
Brand awareness is vital. The better you rank, the more people will discover your brand through organic search and come to see it as a trusted source of information. SEO ensures visibility, so these encounters occur more regularly, helping to convert leads into customers.
Disadvantages
It takes time
If you want immediate rewards, spending six months or a year optimising your website might be more of an investment than you're prepared to make. And the job is never complete. Your website will always need attention.
Distribution
Unlike PPC, SEO takes time to achieve a positive Google ranking. To achieve a better search placement, you'll need to build trust in your brand, which requires more interactions. So how do you get your valuable information in front of viewers to raise engagement? Kurve likes to use professional social platforms, like LinkedIn. In fact, social websites play a huge part in gaining traction and raising SEO value.
No control over algorithms
One of the most problematic factors about SEO is the reliance on search engine algorithms. Google's algorithm will update without warning. Every change might influence how you rank, meaning all your investment and effort could be for nothing.
Difficult to test
If A/B testing is a priority for your business, then an SEO campaign has more limitations. It's hard to test organic searches, because if a page ranks highly, most businesses won't want to risk reworking it to test alternative content for fear of messing up a magic formula.
Demand for skills
SEO techniques can be acquired over time, but optimising your site experience requires an expert. The quality of the content could be great, but if your website doesn't meet Google's parameters, then you won't rank highly. You'll need basic HTML and CSS skills, as well as knowledge of sitemaps, URLs, redirects, indexing, and content creation to develop an impressive SEO strategy.
When should I choose SEO?
Ideally, your website would be designed and developed with SEO in mind, paving the way for a successful ongoing SEO strategy. If you're planning on incorporating SEO into your digital marketing strategy, it pays to get started as soon as possible — schedule blog posts and begin writing case studies from the outset. Invest in it now, and your business will reap the rewards for years to come.
But remember, whether you're starting from scratch or not, good SEO strategies require a heavy investment of time and energy, they're extremely difficult to test, and there's no secret sauce to SEO success.
How can SEO and PPC work together?

When it comes to raising engagement through search engines, 1 + 1 = 3. A combination of SEO and PPC offer business owners high-growth and returns through optimal search engine results, whether it's organic listings or paid Google placements. With an optimised, blended approach and a healthy budget, you can capitalise on the strengths of each strategy, while mitigating the weaknesses they present individually.
Long-term goals are covered by targeting low-competition keywords and phrases through SEO, while short-term needs can be met through well-orchestrated PPC campaigns, namely focusing on high-competition keywords.
Uniting both approaches into a slick digital marketing strategy will ensure a more immediate increase in leads and prospective customers, as well as an ongoing improvement in rankings and brand awareness. But it takes housekeeping. A few PPC campaigns and a case study won't keep you as the number one search engine spot. You'll need to optimise and monitor all of your channels to make sure they're maximising returns at every stage.
How can I increase and accelerate traffic to my website?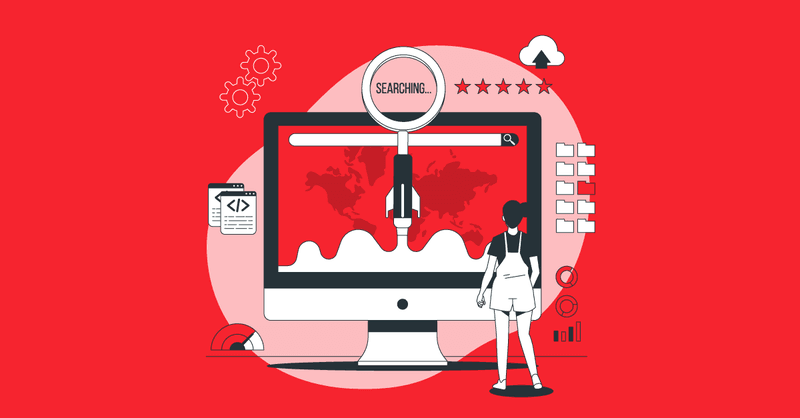 Around 63,000 Google searches happen every second — make sure your business appears when it matters most. Streamline your SEO efforts and PPC campaigns with help from Kurve. Our expertise and efficiency can help increase traffic to your website and drive sales. Paid search management solutions accelerate engagement with high-intent audiences – people actively looking for your product or service.