App Store Optimization Case Studies in 2023
Curious about the secret to scaling your mobile app?
It all starts with App Store Optimization (ASO).
ASO is the magic ingredient in the mix, powering any mobile app's visibility and success. At Kurve, ASO is integral to our mobile app marketing strategies. Our unique methods have propelled numerous apps to the top charts, skyrocketing their downloads and brand visibility.
But what is ASO exactly? To answer that, we've curated a comprehensive guide shedding light on every facet of ASO. This article breaks down intriguing case studies to illustrate how applying specific ASO tactics can help your app downloads to soar.
1. SweatCoin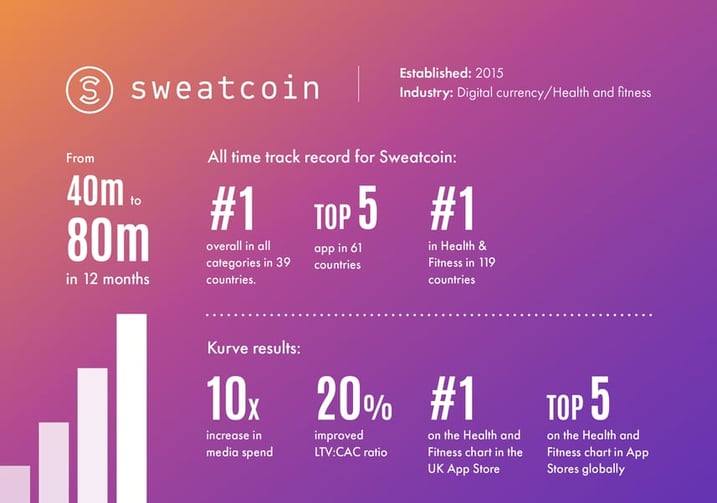 Sweatcoin is a UK-based health and fitness app. It has revolutionized how people perceive physical activity by rewarding users for walking. The app tracks your steps, converting them into a virtual currency called 'sweatcoins', which users can redeem for products, services, or cash. Within seven years of its inception, Sweatcoin amassed 60 million registered users. It's evolved into an entity that resonates with the fitness-conscious audience worldwide.
Goal
Sweatcoin approached Kurve with a twofold ambition: to acquire more users and to expand into several new markets. Despite an impressive user base, Sweatcoin wanted its growth and revenue model to be more predictable and scalable. They sought to transition from reliance on influencers, referrals and viral loops to a growth model fuelled by paid advertising and organic growth.
ASO Solution
Kurve, the ASO Agency, crafted a tailored growth strategy integrating;
Google App Campaigns (ACi)

App Store O

ptimization

(ASO)

Paid App Store Install Campaigns

And paid Social on platforms like TikTok, Snapchat and Facebook.



Sweatcoin was harnessing the power of TikTok's user-generated content and viral loops. Kurve trained Google's algorithm to target ideal users, blending audience research and ASO. As part of their collaboration, Kurve's services extended to the creation and execution of campaigns across various channels that echoed Sweatcoin's value proposition - "It pays to walk."
Results
The results were dramatic and fulfilling. Sweatcoin became the fastest-growing health and fitness app in history and achieved the number 1 position in the UK market. They saw a tenfold growth in monthly user growth via paid campaigns and a similar increase in media spending. All while maintaining their LTV targets. Sweatcoin achieved more visibility in its target expansion into foreign markets. The result? The app made the top 5 Health and Fitness chart ranks in App Stores globally. You can explore their success journey in greater detail here.
2. BackThen

BackThen, formerly LifeCake, is a private family photo and video journal app. It launched in the UK in 2012 before Canon acquired it in 2015. It offers users a platform to securely store, organize and share their cherished family moments, starting from pregnancy.
The brand's USP is providing customers with an alternative to mainstream social media platforms. BackThen addresses privacy concerns by enabling users to share their journey within their private network. Over time, the app became a valuable addition to Canon's digital consumer services business.
Goal
After reaching a plateau of 600,000 users, BackThen aspired to expand its user base, with an initial growth target of 1 million. Their primary objective was to ensure the app continued to attract new users while retaining the existing ones.
ASO Solution
Kurve stepped in to shift BackThen's marketing focus away from generating installs. Instead, we used a more targeted strategy - user registrations. Using data science models to quantify user behaviors leading to subscription, Kurve refined the app's engagement strategy, aiming for a 4:1:2:1 ratio. The focus was encouraging users to upload four photos, invite two friends, and receive one comment. The CPM strategy involved creating and distributing engaging baby video content to target the right audience with subsequent advertising.
Results
With Kurve's strategic intervention, BackThen experienced an impressive transformation within three months. The user base skyrocketed five times in a year, reaching over 3 million from the initial 600,000. At the same time, they significantly reduced CPM from £50 to £5 and improved efficiency by 20-30%. This massive scale-up was accomplished at half the predicted cost per user. For a deeper dive into this success story, click here.
3. Sephora shopping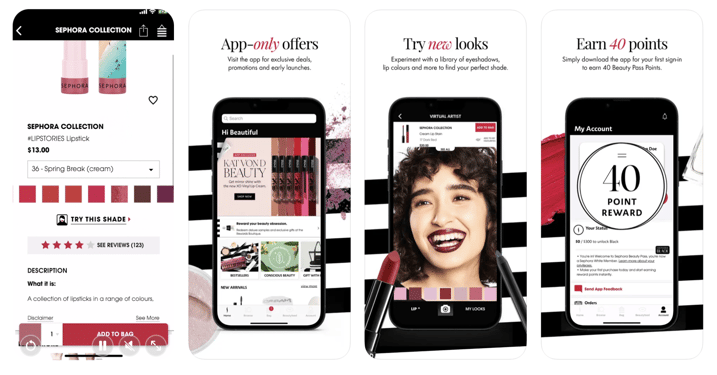 Sephora's mobile app extends its physical in-store shopping experience to the digital world. It offers detailed information about cosmetics, hair products, and fragrances. Through the app, users can watch tutorials and try on makeup virtually via augmented reality features.
The app allows users to purchase products directly from their phones. This brings the whole Sephora shopping experience into the palm of their hand.
Goal
Sephora's main goal was to enhance its App Store Optimization (ASO) strategy to increase traffic and its visibility in the app stores. After achieving better visibility, the next goal was to improve conversion rates to take advantage of the influx of new traffic. This shows the necessity of an effective ASO strategy that focuses on visibility and conversion.
ASO Solution
A well-planned ASO strategy includes the following;

understanding app trends,

competitor positioning,

keyword ranking performance,

seasonality,

and overall messaging.



In Sephora's ASO case studies, we identified keyword themes aligned with the app's popular features and products.

One of the critical elements of this process was optimizing and testing the app's short description on Google Play. This section holds significant sway in both keyword rankings and conversion optimization. This effort involved creating multiple test variants based on Sephora's products and features for the short description.
Results
The testing phase resulted in a clear winner for the short description, and implementing this led to an impressive conversion rate increase of up to 44.2%. This case study showcases the benefits of a data-driven and tailored ASO strategy. When utilized, it can improve conversion rates and performance across all channels. A comprehensive understanding of the app's features, demographics, and conversion trends tied to each played a crucial role in achieving this success.
4. iSharing

iSharing, developed by iSharingSoft, is a real-time locator app that focuses on family and friends' safety. It lets users share their location privately and communicate with their loved ones. The selling point of the iSharing app is the peace of mind it offers families by providing easy tracking and alerts about their whereabouts.
Goal
In 2021, iSharingSoft wanted to elevate the app's visibility and performance in the App Store. They aimed to secure a spot within the top 100 apps in the Social Networking category. Given the company had a single marketing team member and was targeting a competitive category, this was an ambitious target.
ASO Solution
iSharingSoft adopted a proactive ASO strategy, updating the app metadata's keywords every 2-3 weeks. The increase in keyword rankings prompted iSharingSoft to invest in Search Ads for keywords where the app ranked in high positions. They used AppTweak's Search Ads Recommendations feature to gain insights, focusing on high search volume keywords already performing well. Moreover, they integrated their App Store Connect console to monitor conversions, mainly focusing on converting impressions into installs.
Results
The diligent ASO efforts led to a surge in its category ranking by 42.5%, from #160 to #92. All within just two months. The app has maintained its growth trajectory since implementing the new growth strategy. This case study underscores the effectiveness of a strategic and proactive ASO approach for apps, even when managed by a small team.
5. Himalaya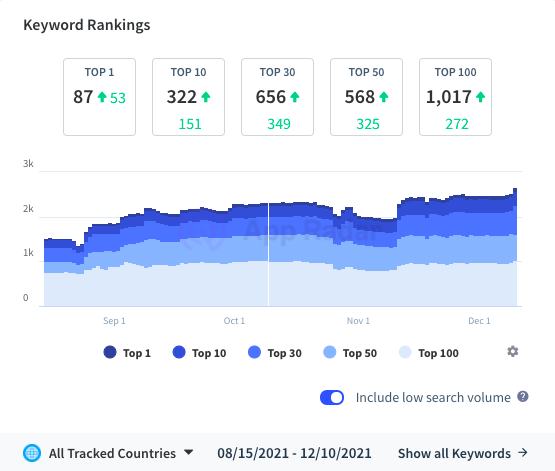 Himalaya is a multifaceted audio education platform. Through inspirational and motivational stories, it highlights the extraordinary lives of various individuals, fostering an environment of learning and personal growth. The app is available in Chinese, English, Spanish, and Japanese.
Their broad content range includes "courses" and "stories," creating a unique user learning experience. The ultimate goal of Himalaya is to inspire its audience with a rich audio experience that spans different categories and languages.
Goal
The main objective for Himalaya was to increase app visibility and organic downloads, with a particular focus on the US and Taiwan. A meticulously planned and executed App Store Optimization (ASO) strategy was required.
As the app was already identified with the most relevant keywords like "courses" and "stories," the primary task was to enhance this initial keyword framework and optimize the listing in other search terms because of keyword usage and visual appeal. The goal was to boost their search downloads on the App Store and the Google Play store and enhance their organic growth.
ASO Solution
Implementing an effective ASO strategy involves in-depth keyword research. This paved the way for creating a list of medium and high-traffic keywords. These keywords were strategically integrated into the app's listing, ensuring the App Store and Google Play descriptions were well-optimized. These keywords included app name, subtitle, and promotional text adaptations.
The long description on the Google Play store was also enhanced with additional keyword density. Over time, the ASO strategy had to be adapted and optimized based on user search behavior, competition and store changes.
Results
The ASO strategy yielded impressive results, marked by a significant increase in organic downloads and heightened visibility. In Taiwan, search downloads increased by 58% on the App Store, and in the US, Google Play witnessed a surge of 47%. There was a considerable rise in the rank and visibility of Himalaya's app regarding organic keyword ranking.
The app also saw increased visibility in browser visibility by changing the category from "Education" to "Books." The resultant ASO strategy boosted organic downloads and improved their business prospects. With Kurve's expertise in ASO, a similar approach can be tailored to suit different apps, helping them achieve optimal visibility and growth.
6. Darby Smart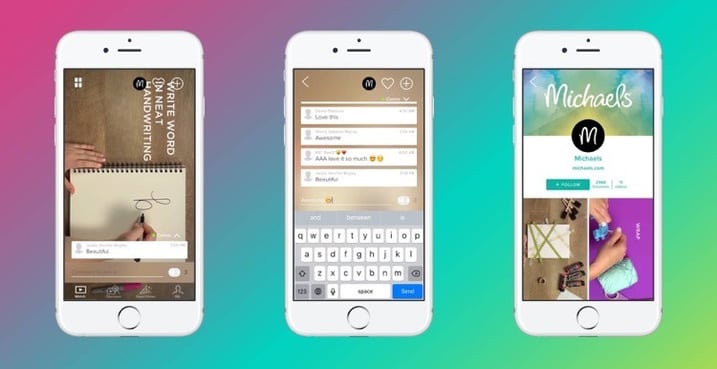 The "How To Videos" app by Darby Smart is an innovative digital platform offering users various informative and instructional videos on various topics. It is a go-to resource for users seeking knowledge and guidance on many subjects, from lifestyle to technology and everything in between.
The app icon aims to provide convenient access to expertise, promoting learning at the user's fingertips. The challenge Darby Smart faced was conveying the essence of their app through the icon. The brand mark was critical to their product page and user experience.
Goal
The goal for the Darby Smart team was multi-pronged. They needed to create an app icon that grabbed users' attention as they scrolled through the App Store. It also had to represent the app's purpose and content. With 65% of App Store downloads coming directly from searches, a visually engaging and clear app icon was paramount. The task was to test and identify the most influential icon design that could boost conversion rates and improve user interaction.
ASO Solution
The Darby Smart team's strategy focused on A/B testing two different icon design approaches; following popular trends versus creating an easy-to-understand icon. To strike the right balance, the team reviewed top-performing mobile apps and experimented with a wide range of design styles.
This testing phase is where a comprehensive ASO strategy, like that provided by Kurve, could offer valuable insights and expertise, especially in the case study generating effective variations for testing and competitive benchmarking.
Results
This ASO solution resulted in a straightforward app icon design that increased the click rate on the "Get" button by a staggering 73.7%.
The strategy also allowed the team to understand what worked best for their app. In similar situations, Kurve's analytical approach and detailed performance reports could further illuminate what drives user engagement and conversion. With this data, it's possible to maximize the effectiveness of such an ASO strategy.
7. Headspace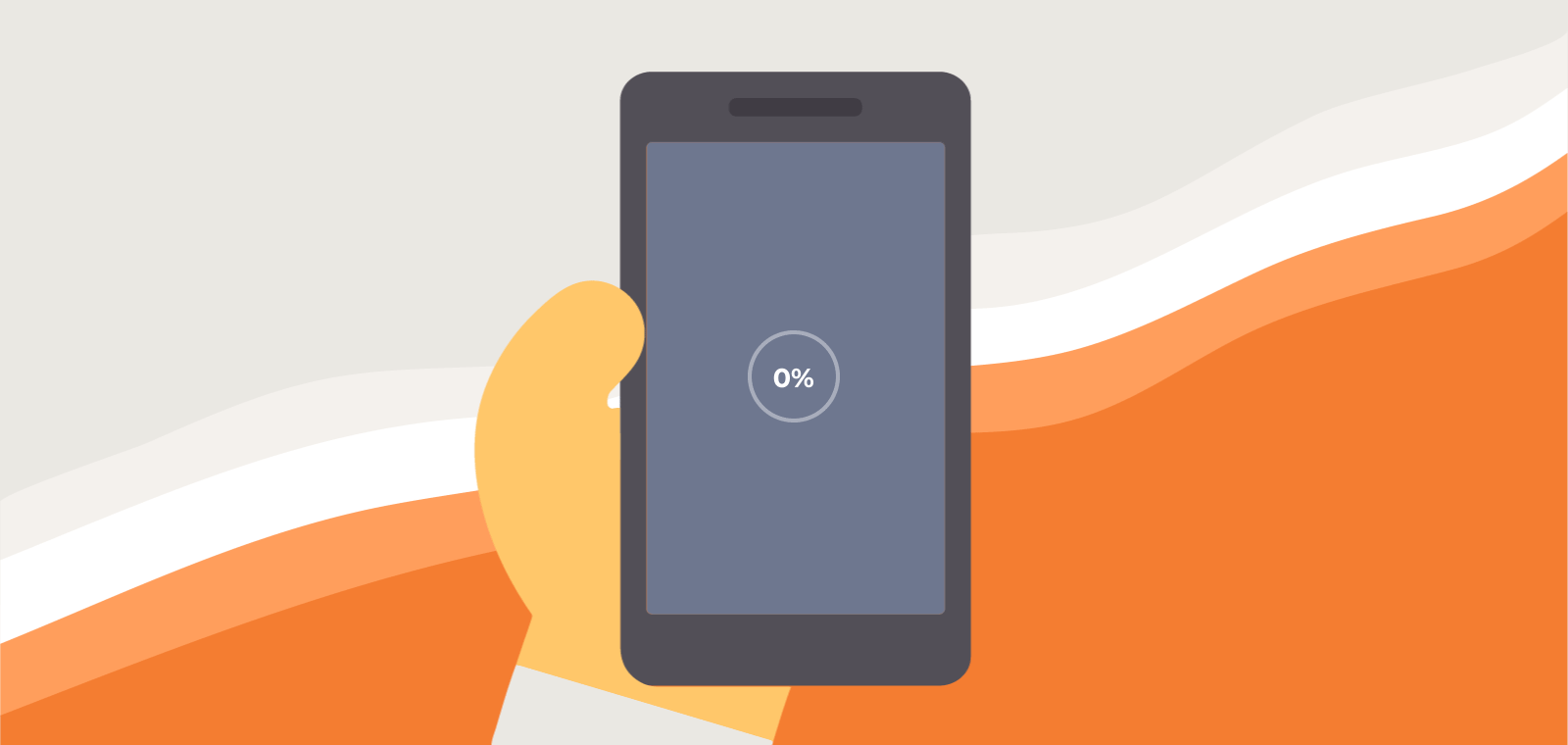 Headspace is a globally-recognized mobile application that promotes mental wellness through meditation and mindfulness.
The app, founded by Andy Puddicombe and Rich Pierson in 2010, offers users guided meditation sessions and mindfulness training that they can access anytime, anywhere.
With a vision of encouraging healthier, happier and more rested lives, Headspace has attracted millions of users worldwide.
Goal
Headspace's mission was to solidify its position as a world-leading meditation app. With six million users, they were seeking an edge in App Store Optimization (ASO) to fuel visibility and conversion. Nailing these two factors would lead to sustainable and scalable growth. The target was to enhance immediate app performance and equip Headspace with the essential tools and insights for enduring success after the completion of the project.
ASO Solution
Headspace's ASO strategy was systematically structured in two phases: planning and execution. The planning phase involved a tailored ASO audit and a comprehensive market report to uncover significant app discoverability and conversion opportunities in the Google Play and Apple App Stores. Extensive keyword research and localization strategies were integral parts of this phase. This is where Kurve's expertise would come in handy, leveraging AI tools to provide targeted keyword suggestions and cultural nuances.
The execution phase was based on the insights gained from the audit, leading to six months of experiments. Continuous keyword optimization, keyword set, professional translation, and localization services were advantageous in niche markets like meditation. The entire process was transparent, and the experimentation outcomes were analyzed and reported, paving the way for an improved understanding of the ASO process.
Results
The strategic ASO solution led to an impressive increase in app visibility by 40% and an 18% surge in installs via the search results. The conversion rate of local store listings improved by 8%, and there was a significant rise in installs from non-English markets.
The comprehensive experimentation process yielded invaluable learnings for future ASO endeavors. The Headspace team continued testing and learning even after the engagement, underscoring the long-term value of the initiative. Eventually, the user base expanded by 13%, securing Headspace's place among the top 100 grossing apps in the US.
8. StoryShots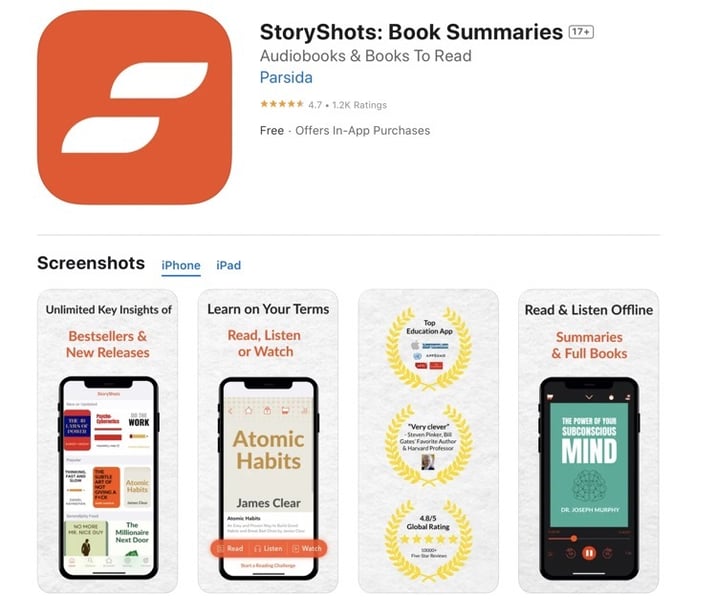 StoryShots is an innovative mobile app that condenses popular books into short, digestible summaries. Developed to make learning from books more accessible and time-efficient, StoryShots became a go-to tool for busy readers or those looking for book insights before purchasing.
Despite its unique value proposition, StoryShots had only a handful of downloads at the outset. While this presented a vast growth opportunity, StoryShots had no marketing budget. The challenge was to tap into this potential in the most cost-effective way possible.
Goal
StoryShots wanted to increase its app awareness and user base using cost-efficient methods that could bring long-term results. The founders approached Grafikwerket to help them achieve this goal. Given the circumstances, the task was to create and implement a comprehensive App Store Optimization (ASO) strategy to increase the app's ranking and visibility. If successful, this would lead to a boost in downloads and user acquisition.
ASO Solution
Grafikwerket recognized that ASO is not a one-off process but an ongoing optimization cycle. And so, they devised the ASO strategy around iterative growth hacking sessions. The idea was to systematically optimize various ASO parameters until the desired level of visibility was achieved.
Keyword analysis, tracking rating metrics and harnessing ASO intelligence were pivotal components of this plan. Further, recognizing the importance of localization, Grafikwerket aimed to optimize StoryShots in 30 new markets, amplifying its reach.
Results
The strategic and iterative ASO approach yielded remarkable results. Within a few months, StoryShots had explosive growth in its install base, reaching tens of thousands of users. Within two months, the app secured a Top 100 ranking in the book category in 6 of the newly targeted markets.
The continuous influx of 5-star ratings and thousands of downloads each month is a testament to the success of the ASO strategy. The app's performance demonstrates the power of ASO as a long-term, cost-effective user acquisition tool.
9. Organic Walk

Organic Walk is a fitness app that serves as a personal wellness companion. It's an integrated platform that offers expert guidance, personalized walking routines curated by experts, a step and water intake tracker, and professional advice. Despite its comprehensive services, Organic Walk faced challenges in its visibility and download rates in its targeted regions. The situation called for a new ASO strategy.
Goal
The primary objective for Organic Walk was to boost its visibility in the App Store. Delivering this would increase app downloads across selected regions. Given the crowded nature of the health and fitness app market, distinguishing the app and reaching potential users was a critical challenge that required a strategic approach to ASO.
ASO Solution
The resolution began with thorough market and competitor analysis to understand the app's standing in the marketplace. Creating a robust semantic core was integral to this strategy, which entailed collecting and optimizing keywords. Notably, this led to indexing branded and general search terms previously absent in the metadata. The metadata was updated across 12 localizations, targeting diverse global users and catering to their unique search behaviors.
Results
The aftermath of this comprehensive ASO strategy was impressive. Organic Walk saw an 83% increase in app impressions within just nine days of release, which continues to rise. Furthermore, app units amplified almost fivefold, signifying a dramatic uptick in user engagement. Countries like the US, France, Brazil, and Spain showed the most significant growth rates.
By including more relevant queries in the semantic core and metadata, the app saw an increase in conversion from impressions to installs. These results illustrate how a well-executed ASO strategy can drive visibility, downloads and user engagement.
Key Takeaways
App Store Optimization (ASO) is a vital strategy. It allows mobile applications to stand out in the saturated digital marketplace. As the case studies show, well-strategized and executed ASO techniques can lead to a significant surge in app visibility, downloads, and engagement.
We at Kurve understand the ever-evolving dynamics of the mobile app ecosystem and the significance of an effective ASO strategy. Our robust mobile app marketing strategies are tailored to meet your app's unique needs and ensure sustainable growth.
In partnering with Kurve, you're choosing a path toward improved visibility, increased downloads, and greater user engagement, all crucial elements for your mobile app's success.