Scaling user acquisition with TikTok user generated content
Without the right marketing strategy, even the most innovative apps may remain undiscovered in a saturated market, limiting their financial returns and overall impact. So what makes an app really successful?
We are excited to launch the event series Kurve Insights which will give an answer to this question and many more. Through roundtable conversations and networking sessions we will discuss what makes customers tick and learn about upcoming trends and innovative strategies for growth.
Kurve Insights will kick off on 18th October 2023 with a first event exploring how to scale user acquisition with TikTok User Generated Content (UGC).
Read on to discover more!
A Platform for App-Specific Knowledge-Sharing
Each Kurve Insights event has been carefully curated and has the goal of offering expert knowledge in a space where businesses can share ideas and find the right tools to navigate the ever-evolving mobile app ecosystem.
Kurve Insights Core Topics
Kurve Insights will cover a diverse lineup of topics reflecting the latest trends and strategies in mobile app marketing. Participants can expect in-depth discussions on essential themes such as:
App Store Optimization (ASO): discussing the best strategies that generate organic traffic and the most innovative ways to make your brand stand out in the app stores.
User acquisition strategies: exploring original techniques to attract and spark interest among potential users in an increasingly competitive landscape.
App analytics & tracking: harnessing the power of data to understand users, optimise their experiences and invest in the strategies that make a real difference.
Retention & engagement techniques: unpacking creative methods to maintain users engaged with your app's services and features to ensure they keep coming back.
Influencer marketing: delving into the ever-changing world of influencer collaborations to amplify your app's reach and credibility.
Emerging trends and technologies: staying on top of the latest developments in app marketing and leveraging advanced technologies for long-term success.
Scaling User Acquisition with TikTok User Generated Content
Kurve Insights opens with a first event exploring how to supercharge user acquisition through TikTok user-generated content. As TikTok continues to lead the social media landscape, tapping into the creative potential of its user base can be a game changer for apps. With consumers being increasingly drawn to content that resonates with them as genuine and trustworthy, understanding how to make the most of TikTok's community-driven engagement is the key to unlocking sustainable growth.
The discussion will delve into the intricacies of leveraging TikTok's dynamic platform, building effective outreach strategies and establishing authentic connections with users through content that speaks to their interests and real-world needs.
Join Us!
As the digital landscape continues to evolve, staying informed and connected is essential and with Kurve Insights we want to offer you the opportunity to do just that in a relaxed and creative environment.
Mark your calendar and RSVP today to attend our first session Scaling User Acquisition with TikTok User Generated Content. See full event details below.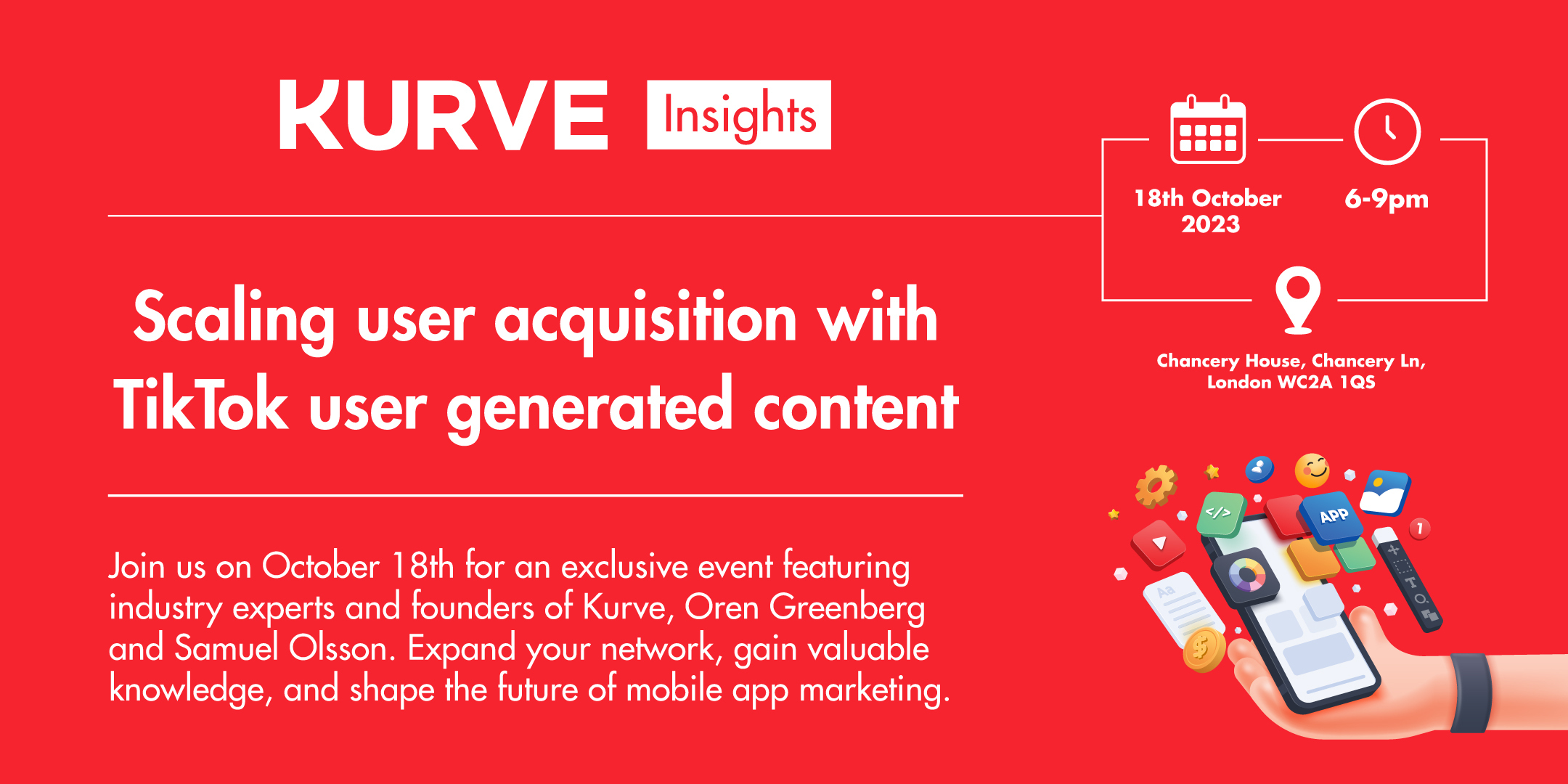 Scaling User Acquisition with TikTok User Generated Content
18th October 2023 from 6 to 9pm
FORA Chancery House, Chancery Ln, London, WC2A 1QS
We look forward to welcoming you on the 18th of October and every other month thereafter.
See you at Kurve Insights!