What's an Outsourced CMO? & How They Benefit Your Business
It can cost upwards of $250,000 to hire a full-time CMO. This price tag is simply out of reach for some small and medium-sized businesses.
So, what do you do when you need an experienced marketing leader to guide your team and drive growth but don't have enough resources to hire a c-level executive?
As the leading agency for on-demand CMO solutions, we spend a lot of time analyzing the benefits and pitfalls of outsourcing your CMO efforts.
In this article, we'll explore these effects and what you should look for when hiring a fractional CMO to lead your marketing team.
What is an Outsourced CMO?
An Outsourced CMO or an on-demand CMO is an external marketing expert who provides strategic marketing guidance and execution support to businesses on a part-time or project basis at a fractional cost of a full-time CMO.
It's a good deal. You don't have to commit to a full-time CMO; they only work with you based on your requirement.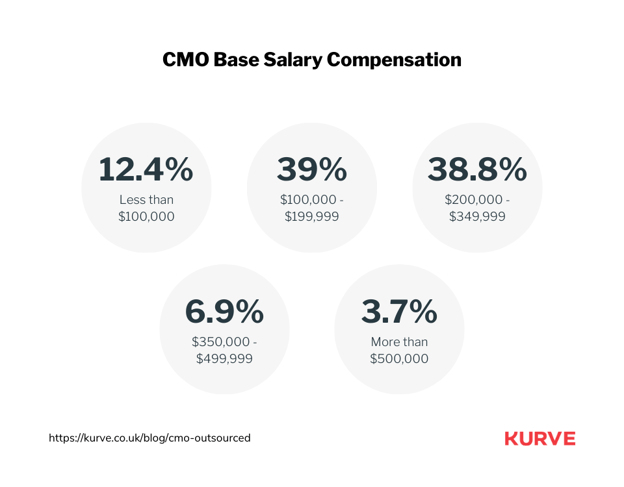 When you hire an outsourced CMO, you can access their industry knowledge and expertise at a cheaper rate. They guide your team directly to speedy marketing execution without wasting time or resources on experimentation and learning.
This concept benefits early-stage or medium-sized companies that can only commit to part-time CMOs. By leveraging an outsourced CMO, these businesses benefit from a senior marketing leader's expertise without the full-time cost commitment.
Benefits of working with an Outsourced CMO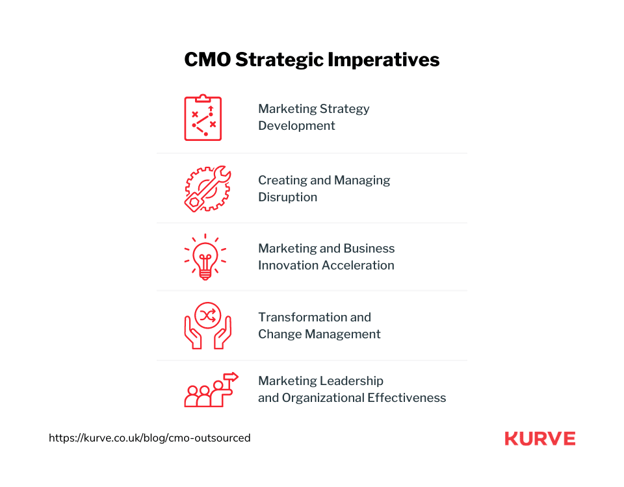 1. Pay only for what you need
Heads-up warning: The hourly rate of Outsourced CMO services will be higher than that of a full-time CMO. However, consider this option as you might save money in the long run.
The best part of working with an outsourced CMO is its flexibility in capital investment. You only pay for the scope of work you need, allowing you to allocate your financial resources elsewhere.
For example, let's say you need help reducing your churn rate, which only requires 20 hours per month. With an outsourced CMO, you can pay for those 20 hours and no more. This approach saves you money compared to hiring a full-time CMO who would be paid 40 hours per week, even if they only worked on your project for 20 hours.
Working with an outsourced CMO means you can tailor your marketing budget to your exact needs and get the most out of your financial resources.
2. No hassle of hiring
Hiring a full-time CMO can be daunting - posting job ads, sorting through resumes, conducting interviews, and providing benefits can take up much time and resources.
But with an Outsourced CMO, you can bypass all of that hassle and still receive access to that top-notch marketing talent and expertise you are seeking.
Because they work outside your company, you don't have to worry about the paperwork, benefits, and other costs of hiring a full-time employee. You can quickly evaluate the services offered by multiple providers like Kurve, choose the best fit for your company, and start working with them directly, often within a week.
The best part? You have the flexibility to adjust your marketing needs as your business evolves. You don't need to worry about a full-time employee who may not fit your company's changing needs.
By working with an Outsourced CMO, you benefit from a highly skilled marketing professional without the hassle of recruitment, paperwork, or long-term commitments. It's a win-win situation for your business.
3. Years of Marketing Expertise
When it comes to marketing, experience matters. Outsourced CMOs bring years of experience working with various businesses and teams. Their expertise comes from seeing what works and what doesn't and knowing how to apply that knowledge to achieve your marketing goals.
Think of them as marketing mercenaries, ready to swoop in and help you optimize your marketing strategy.
Their understanding of the latest trends and vast experience make them invaluable assets to any business. And outsourcing your marketing needs can be the most cost-effective solution for small to medium-sized companies that may need more resources to maintain an in-house marketing team.
With an Outsourced CMO, you can benefit from their extensive experience, cutting-edge knowledge of marketing tactics, and proven strategies to help take your marketing efforts to the next level. You'll have access to a professional who can help you navigate the complex marketing world and provide the expertise you need to succeed.
4. Unbiased and Critical Perspective
Imagine you are building a house and have put all your heart, soul, and resources into making it a home. You may overlook design flaws or functional issues because of your emotional attachment to the project.
The same can happen with your business. When you have invested time, energy, and money into something, it's easy to become attached and ignore any possible shortcomings.
This is where Kurve comes in as your outsourced CMO of choice.
Our team of experts will approach your marketing function with a fresh perspective and evaluate your current marketing efforts in depth. We take a holistic approach to your business, examining not just your marketing but your entire business operation to uncover any potential flaws or areas of improvement.
As an experienced and trusted outsourced CMOs, we have worked with businesses of all sizes across a wide range of industries. Our team brings a wealth of knowledge and expertise to the table, enabling us to identify opportunities for improvement and devise effective strategies that will help you achieve your business goals.
It may seem daunting initially, but trust us, this is for your own good. By doing this, we will be able to help you uncover hundreds of loopholes and identify possible areas of improvement that will significantly boost your overall digital marketing strategy and efforts. This can lead to more significant revenue, growth, and success for your business.
5. In-House Marketing Team Mentoring
An outsourced CMO is like a marketing Yoda, ready to impart their knowledge and expertise to your in-house marketing team. Not only can they provide top-notch marketing services to your company, but they can also act as a mentor and trainer for your current marketing team.
Think of it as having a personal marketing guru at your fingertips, helping your team to level up their skills and take your marketing game to new heights. With their guidance, your team can develop a deeper understanding of marketing strategy, execution, and measurement.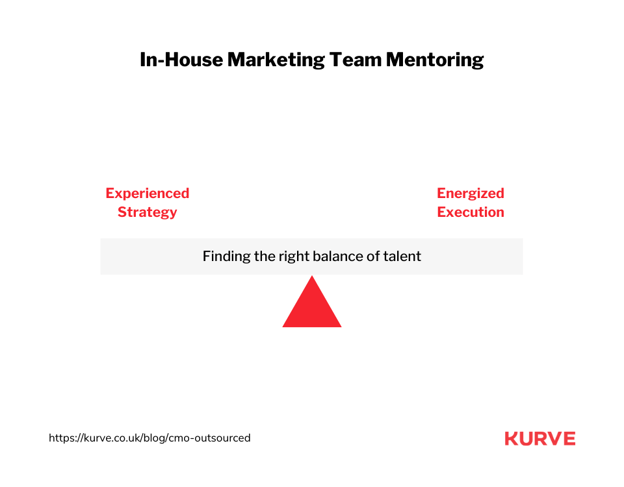 By working with an outsourced CMO, you gain access to their wealth of experience and expertise and invest in the future of your own marketing team. With time, you can build a solid and capable in-house marketing department that is equipped to tackle any challenge that comes your way.
6. Better Marketing Operations
An outsourced CMO can help your team work smarter, not harder.
With years of experience in marketing leadership, they have seen what works and what doesn't and can help you avoid potential pitfalls by implementing efficient processes that can significantly enhance your marketing efforts.
They can bring a new level of productivity to your marketing operations. For example, they suggest implementing project management software to streamline communication and collaboration between team members, reducing miscommunication and misunderstandings.
By making this small change, the team's productivity can be improved, allowing them to focus on other areas of the marketing strategy that require more attention. This way, you also go beyond just their digital marketing expertise.
7. Knowledge of tools
An Outsourced CMO's knowledge of various marketing automation tools can be a game-changer for your business. They have likely worked with numerous tools throughout their career and can use this experience to help you choose the best ones for your business.
From data analytics tools like Segment and Amplitude to social media management tools like Hootsuite and Sprout Social, they can help you choose the right solutions that suit your business. They have the expertise to set up these tools in the backend and leverage them to make data-driven decisions and get better marketing results for your company.
With their expertise, they can also recommend additional tools that can improve your marketing performance and streamline your processes.
8. Advanced Marketing Strategies
You may already have someone running marketing initiatives in your organization.
So, how can an outsourced CMO like the ones at Kurve add value?
We do that by bringing a deep understanding of critical marketing concepts such as positioning, branding, targeting, and marketing psychology.
Think of it this way - an entry-level marketer might know how to set up a social media ad campaign, but our outsourced CMO can craft a targeted message that resonates with your audience on a deep level and ultimately drives demand for your business. Our experts know how to create a brand that stands out in the market and can help you position your product or service in a way that sets it apart from the competition.
After all, our professionals have spent years honing their craft and have a proven track record of success. We know how to go beyond just basic strategies and overall marketing efforts.
9. Faster way to scale revenue
Let's face it, increasing revenue is the ultimate goal for any business. And that's where an outsourced CMO can be your secret weapon because they know how to focus on growing that number.
Without them, trying to scale your revenue alone can feel like navigating a maze blindfolded. You may make costly marketing decisions that don't move the needle or even set you back, like investing in the wrong tools or poor-quality service providers.
But with the help of a seasoned pro, you can rest assured that every marketing dollar is being put to good use, driving meaningful and measurable business results to grow the revenue. They will let your team focus on growth-driving activities than shiny software or less impactful actions that don't move the performance needle.
What should I look for when hiring an outsourced CMO?
When hiring an outsourced CMO, consider looking for the following:
Relevant experience and expertise in your industry

Proven track record of success in implementing marketing strategies

Strong leadership and communication skills

Flexibility to adapt to your company's unique needs and goals

Ability to work within your budget and resources
At Kurve, we offer on-demand CMO and marketing agency services that can provide you with these benefits and more. Our experienced CMOs deeply understand a wide range of industries and can bring their expertise to your specific business needs.
With a track record of successful marketing campaigns and a commitment to communication and collaboration, we can help take your business to the next level.
Consider partnering with Kurve for your outsourced CMO needs and start seeing the benefits of a focused and experienced marketing leader today.