Why Do Leaders Rely on Personal Networks When Hiring Senior Marketing Talent?
We've surveyed 40 marketing leaders – a cohort consisting of CMOs, marketing directors, heads of marketing, and agency founders. The goal was to learn more about their hiring process, specifically when recruiting senior marketers around the £40-60k salary range.
First and foremost, we wanted to know which channels marketing leaders use most when hiring high-calibre team members. And we also wanted to dig deeper into:
Which hiring channels are most effective?

Which hiring channels are least effective?
Here's the survey's answer to that first question: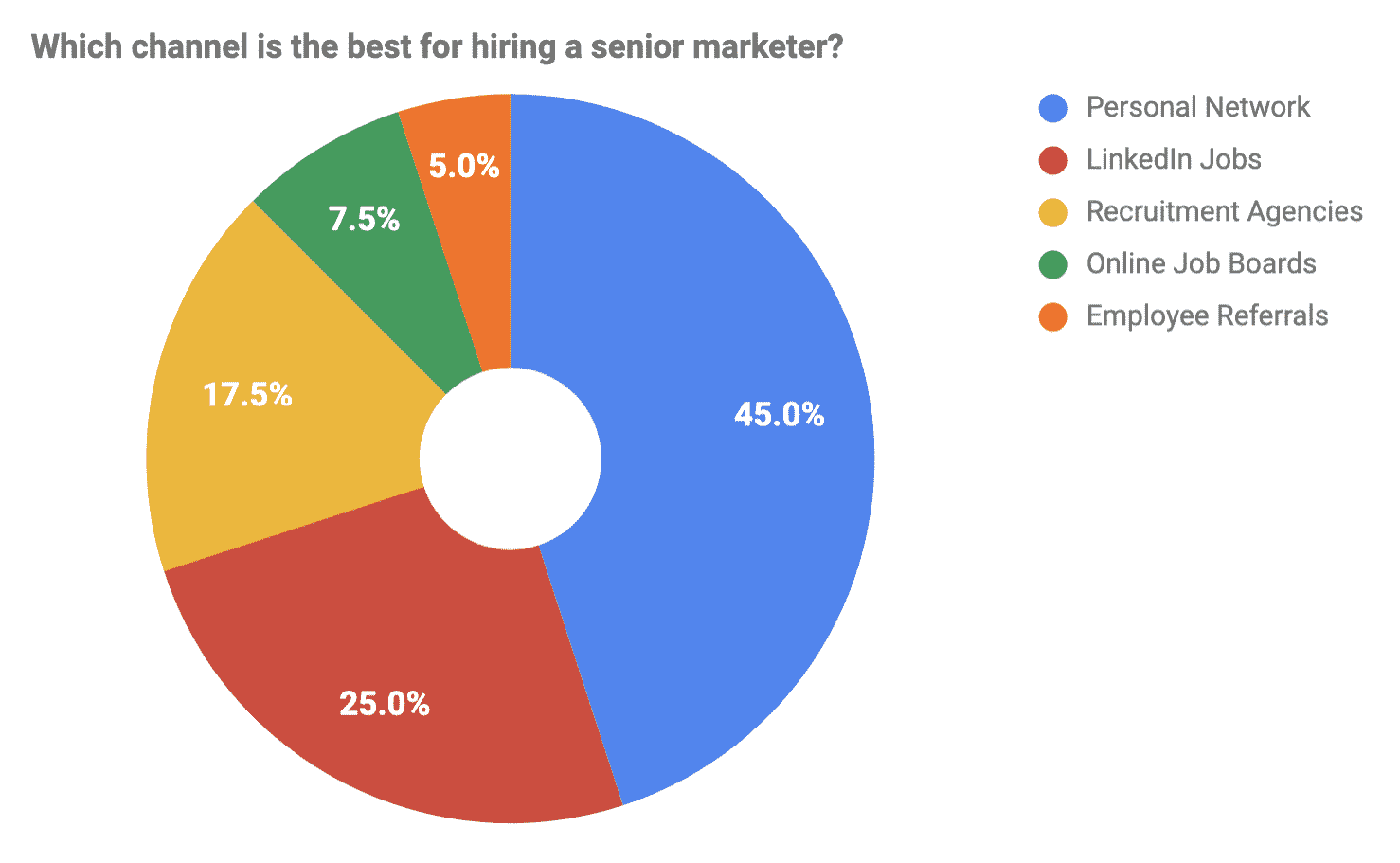 And here's the answer to the second question: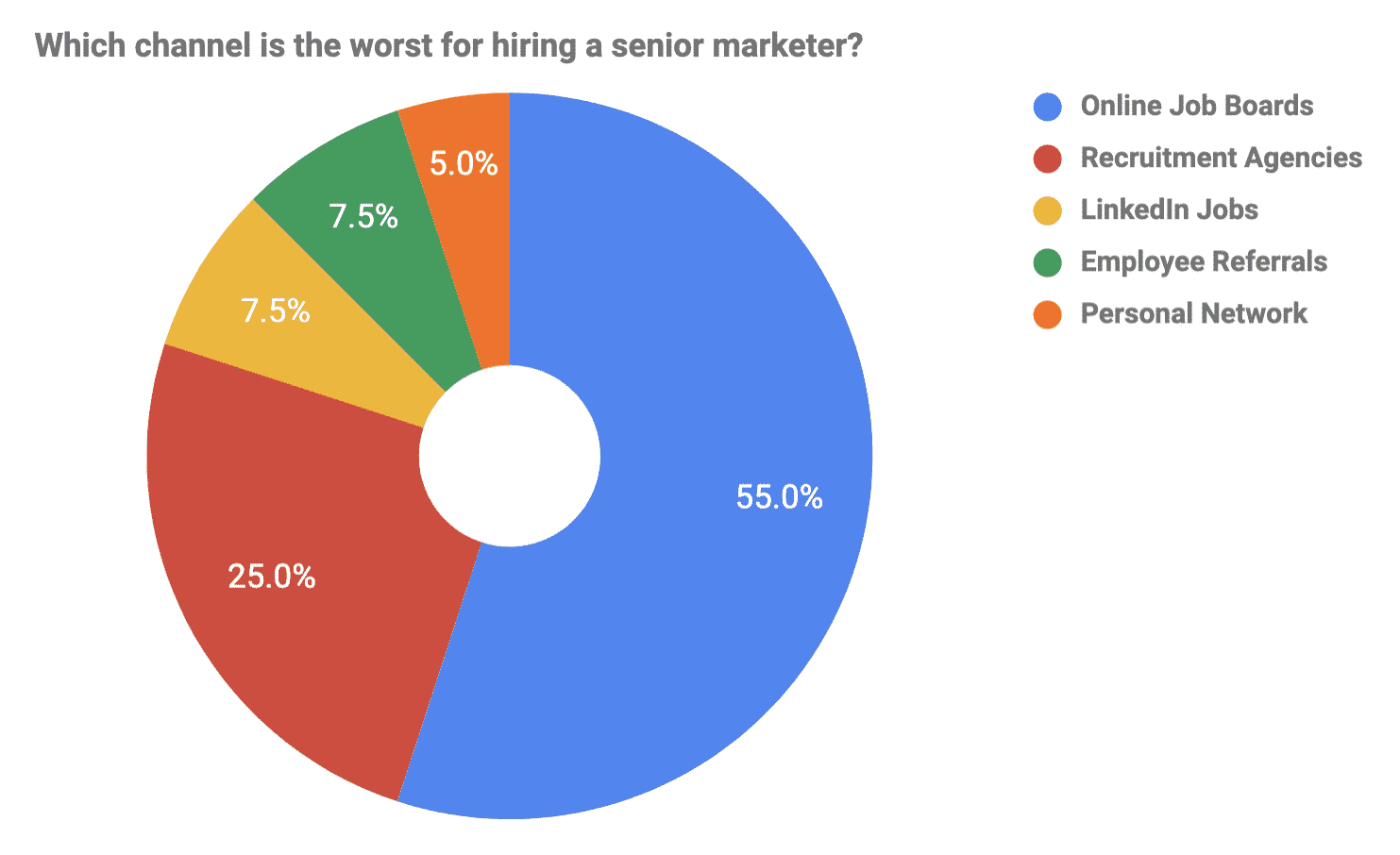 These charts indicate a clear winner and loser: personal networks are by far the most popular hiring channel, with 45% of marketing leaders choosing it as the best. This is followed by LinkedIn Jobs with 25%, which is a surprise that I've deep-dived into over in this post.
In contrast, only 7.5% choose online job boards as the best for hiring senior marketers, while 55% actually choose Online Job Boards as the worst. I can't say these numbers are a surprise. But the most fascinating insights about why come when we dig into open-ended responses from the survey. What are the reasons for personal networks being the go-to hiring channel?
Common Thread #1: Mitigating Recruitment Risks
As you might expect, our respondents think that using personal networks when hiring senior marketers reduces many of the key risks of hiring. People are naturally afraid to make mistakes, especially when their business is in a volatile market or a vulnerable stage of growth.
When we think of personal networks being the most popular hiring channel, it sounds like marketing leaders are just hiring their mates. But in fact, personal networks are often used to seek recommendations from peers and contacts about who might be a good fit.
In the same way that we scour reviews and seek recommendations (social proof) before buying products and services, we want to do the same when we're hiring.
One of our respondents said "in smaller companies and startups, hiring the wrong person to a senior position can be catastrophic, so having a personal endorsement or experience working with people before is a real bonus. It takes a lot of risk out of the hire."
Another said "you can mitigate a lot of risk by getting a recommendation from someone that you trust. That's a very different prospect to hiring off the back of a resume and cover letter, where you're only reliant on your own judgment."
Other leaders talk about personal networks as being "safer", and multiple respondents focus on the benefit of candidates being pre-vetted, pre-qualified, and filtered.
One marketing leader is actively growing his (and his team's) management-level marketer network, because this is "an effective mitigation mechanism that eliminates mis-hiring."
Common Thread #2: It's Difficult to Assess the Unknowns
Risk aversion is understandably the "umbrella" motivation for using personal networks when hiring. Indeed, risk aversion is a key consideration for many business-critical decisions unrelated to hiring. In order to mitigate risk, leaders prefer to make smart decisions based on evidence.
But when it comes to recruitment, many marketing leaders feel that empirical evidence is lacking – which leads them to offset the risk by trusting their network. Put simply, because it's such a challenge to objectively assess candidates through a CV and/or interview, they lean on recommendations to measure the quality, reliability, and skillset of potential marketing hires.
As one leader says, by using personal networks "you don't have the basic problems you get with unknowns, like reliability or being more than just a good talker – which is the trap when you rely on interviews." Another argues "it's extremely hard to assess both technical and core (soft) skills from a CV and a cover letter, and I'm also extremely suspicious of personality-based tests."
Among our respondents, there's a fear that they're vulnerable to being taken for a ride. This is best summed up by one leader who says "I trust other founders and CEOs more than any marketer trying to sell themselves to me. After all, marketers are good at convincing others."
Common Thread #3: It's Easier to Align on Cultural Fit
The term "cultural fit" has come under fire recently, because critics suggest that companies end up looking, thinking, and acting the same. However, company culture isn't at the expense of diversity if done right – because it actually reflects values, rather than personal characteristics.
The interest in cultural fit has taken off in recent years, and this is reflected on Google Trends: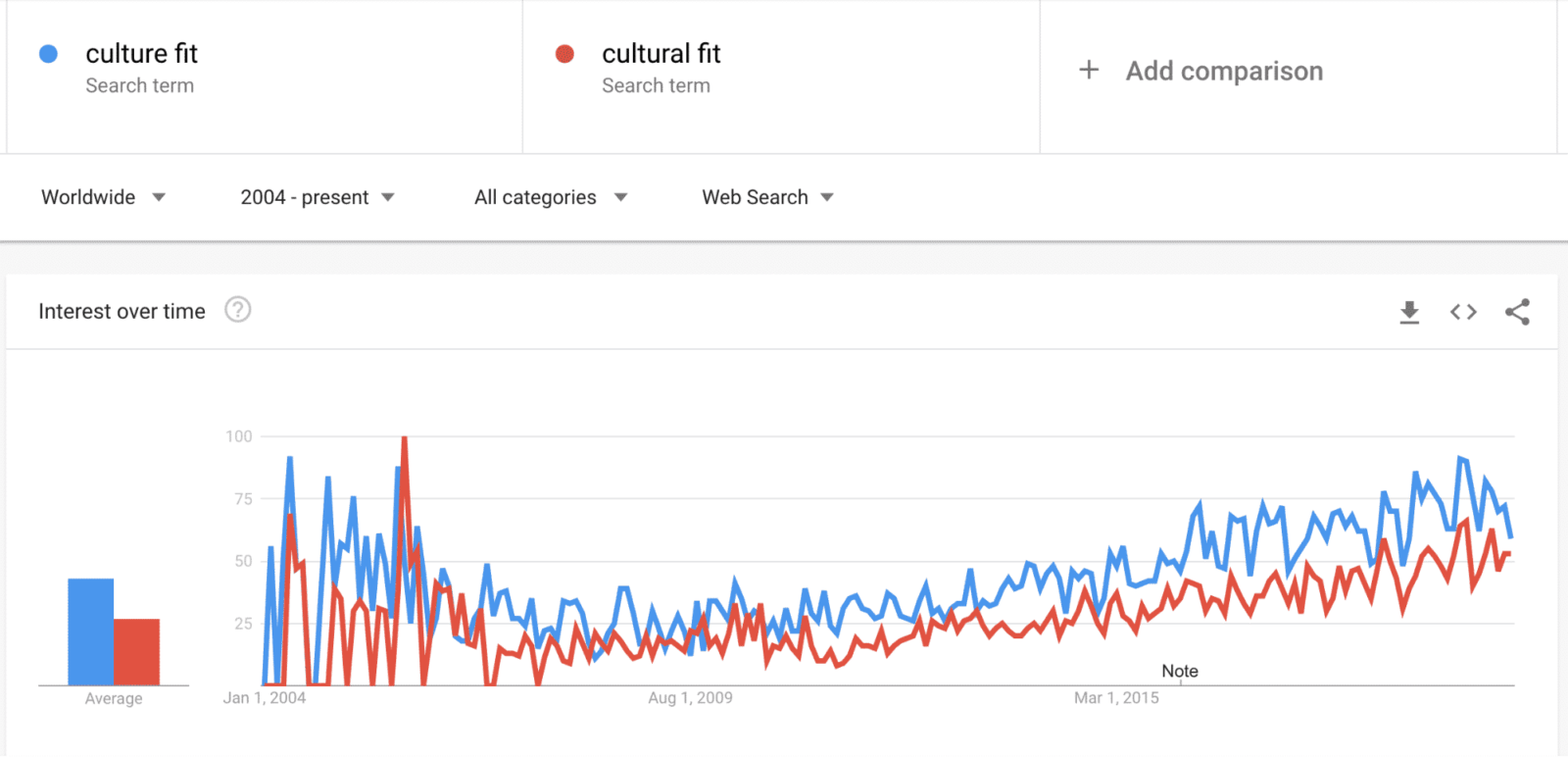 And one question in our survey asked what the biggest reason is for candidates not getting a role, and lack of cultural fit came in second place (with 27.5%) behind competency (with 47.5%):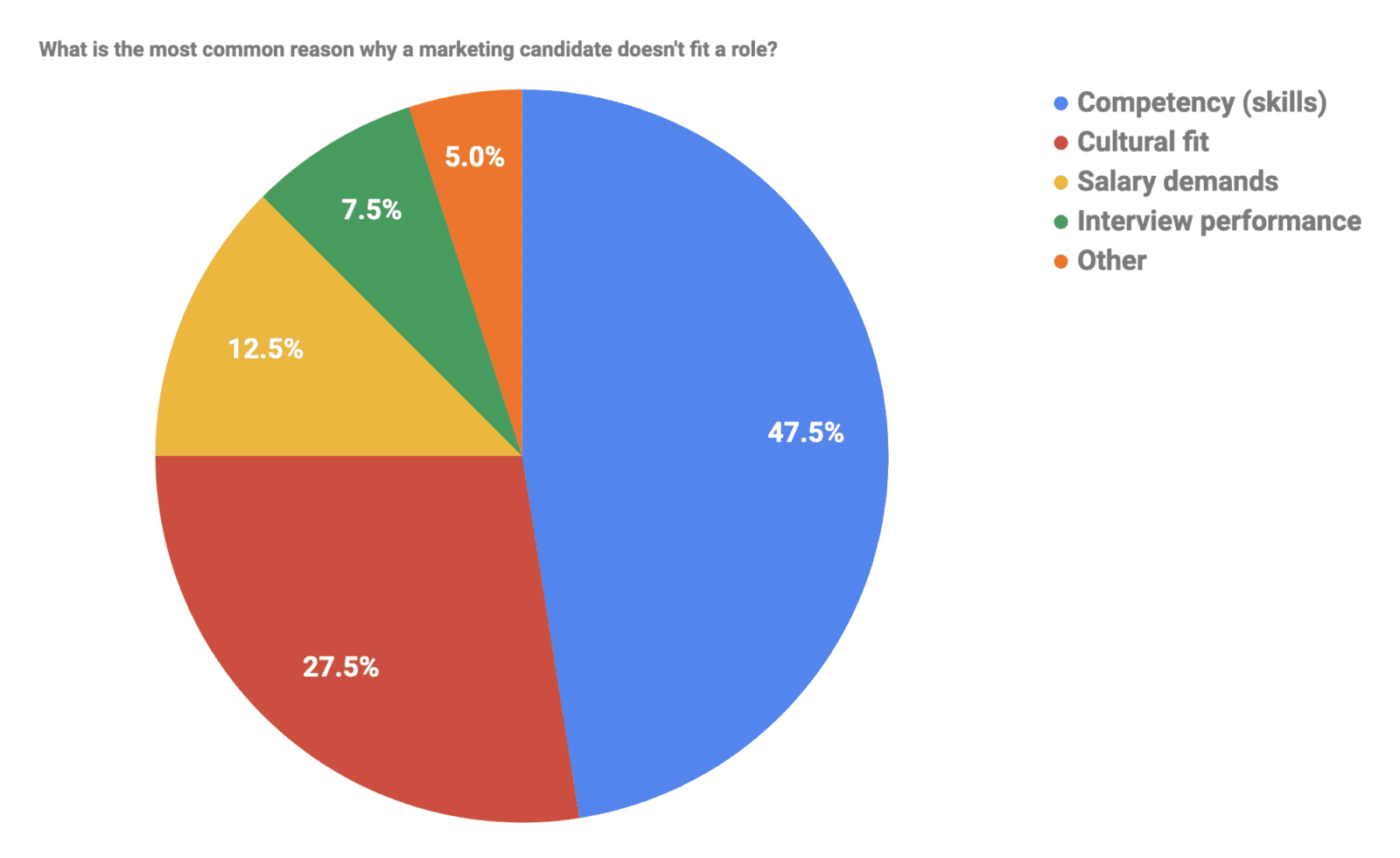 As work and life becomes ever more intertwined, and startups emphasise their purpose and mission above other propositions, hiring has become less about "what you do" and more about "how you do it" – and this means companies are looking for more than skills and qualifications.
According to our survey, many marketing leaders feel that the best way to filter our candidates without cultural fit is to seek references from their existing network.
One respondent has "often struggled to hire senior marketers through advertising or recruitment who retain the values of what makes our company a success – proactivity, creativity, passion." Another says "for me, at senior level, it's more about cultural fit than hard skills. And it's more about strategic ability versus channel expertise."
And according to these leaders, it's easier to filter for this from first-hand experience; using your own network to vouch for someone's values and approach to their work.
In this survey, we also asked how leaders assess cultural fit. This is a big topic with lots of really interesting responses, so I'll be writing a post based on those findings soon. However, the lead takeaway is that just 17.5% of marketing leaders established a process for assessing the cultural fit of candidates. Beyond this, there is a lot of talk about "gut feel" and "open conversations".
While acknowledging that assessing cultural fit is tricky, and that it's hard to reduce values to empiricisms, this does seem remarkable considering how important it is for the hiring decision.
My Response: The Role of Personal Networks, and Hiring Smarter
If a leader is choosing to hire someone they're already familiar with, this stems from what psychologists call "the ambiguity effect" – a mental heuristic best summed up as the tendency to avoid options where the probability of a favourable outcome is unknown. People hire who they know because they believe they can better predict what will happen.
This is totally understandable. But at the same time, I've also seen lots of businesses acquire top talent through recruiters and online ads, in combination with effective screening and assessment. In my view, while tapping into personal networks is no bad thing in and of itself, marketing leaders do limit themselves by not being able to trust other sources of candidates.
The key here is screening and assessment. When you can trust your process, you can be safe in the knowledge that risk is being mitigated. Better due diligence is the only way to open up to new sources of talent while remaining confident that you're not taking on more risk.
As we mature in our professional lives, we form relationships with coworkers, partners, clients, and vendors. Those bonds of trust that have yielded meaningful results can't be ignored. They are naturally more secure than high-risk unknown variables.
But if we're to confidently move beyond the limits of our own network, we need to get hold of more insightful data about candidates than what's on a CV, and test their capabilities and values using objective assessments and benchmarking to reduce the burden on our "gut feeling".
Over the past year, I've been crunching the numbers to map out the marketing skills landscape, and I've developed an assessment tool to help leaders and hiring managers make better decisions. Send me a message on LinkedIn if you want to know more.
---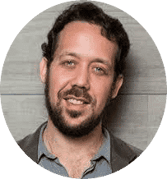 If you want to build a world-class marketing operation, get in touch with Kurve today. You'll benefit from our experience, knowledge, and strategic frameworks – and you'll access new levels of sustainable growth through digital channels.
As part of our research, we surveyed 40 marketing leaders. Huge thanks to the following respondents: