Master Mobile Marketing: Lessons From 12 Winning Campaigns
In recent years, the mobile app market has grown exponentially. In 2020 alone, app downloads reached an astounding 218 billion, with a consumer spend of $143 billion. The competitive landscape, as a result, is fiercer than ever.
For businesses to break through, they need to harness the power of effective mobile marketing strategies. This is where agencies like Kurve can provide invaluable expertise. We can help brands navigate this intricate landscape of mobile app marketing and deliver results.
This blog aims to inspire and equip you with practical knowledge from 12 exceptional mobile marketing campaigns. We'll delve into why these campaigns triumphed and the key takeaways for your business.
What is Mobile Marketing?
Mobile marketing is a digital marketing strategy designed to connect with users on their mobile devices, such as smartphones and tablets. This strategy is applied via various channels, including websites, emails, SMS, MMS, and mobile applications. It offers personalized experiences, aiming to reach users anytime and anywhere. This on-the-go accessibility is what sets mobile marketing apart from its traditional counterparts.
The campaign led by Kurve for Packed is a testament to successful mobile marketing. The strategic approach designed by Kurve led to a significant reduction in Packed's customer acquisition costs (CPA), coupled with a considerable boost in booking volumes. You can explore the Packed case study for more detailed insight into this triumphant marketing campaign.
Why is Mobile Marketing Important?
In today's hyper-connected world, the importance of mobile marketing cannot be overstated. For starters, it offers the advantage of an extensive reach. Given the proliferation of mobile device usage, businesses with a well-planned mobile marketing strategy can connect with users on a global scale, round the clock.
Mobile marketing also facilitates direct, immediate communication. It promotes higher engagement rates by reaching consumers on devices they use frequently. This immediacy fosters stronger connections, enabling businesses to respond promptly to user needs and behaviors.
Moreover, with unique features like geolocation, mobile marketing can deliver personalized, location-based services. This ability enhances user interaction, tailoring experiences to individual users. Lastly, a powerful mobile marketing strategy strengthens brand presence, propelling app downloads, improving user engagement, and ultimately driving higher revenue. It is, thus, a fundamental aspect of a company's digital marketing arsenal.
Traditional Marketing vs. Mobile Marketing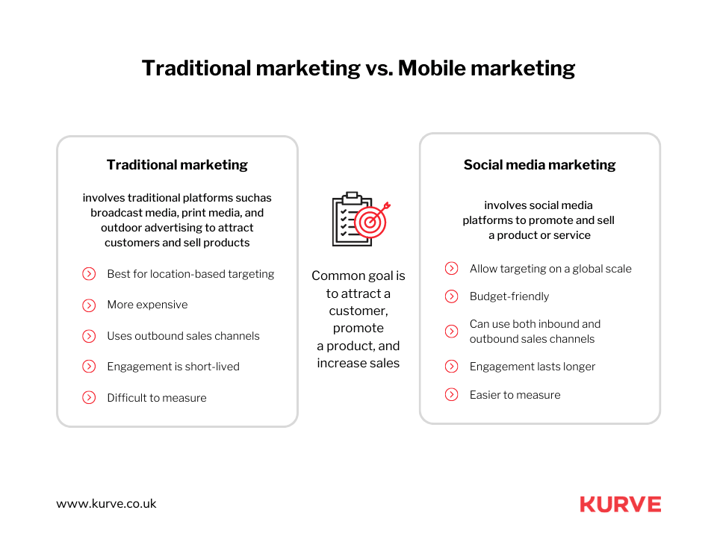 Traditional marketing and mobile marketing both serve to connect businesses with consumers, but their approach, reach, and engagement capabilities significantly differ. Traditional marketing employs communication methods such as television, print, billboards, and radio. While it can get a broad audience, it is geographically bound and less personal.
In contrast, mobile marketing leverages smartphones and tablets - personal, always-on, and portable devices. The intimate nature of mobile devices enables businesses to create personalized and immediate interactions with users.
Mobile marketing also allows businesses to reach a global audience, surpassing the geographical limitations of traditional marketing. From push notifications to in-app messaging, it offers a variety of unique techniques to engage users, driving higher conversion rates and return on investment.
Types of Mobile Marketing Campaigns
Mobile marketing campaigns vary in type, each with unique capabilities and advantages. Identifying the most suitable type for your needs is critical to maximizing impact. Some of the common types of mobile marketing campaigns are: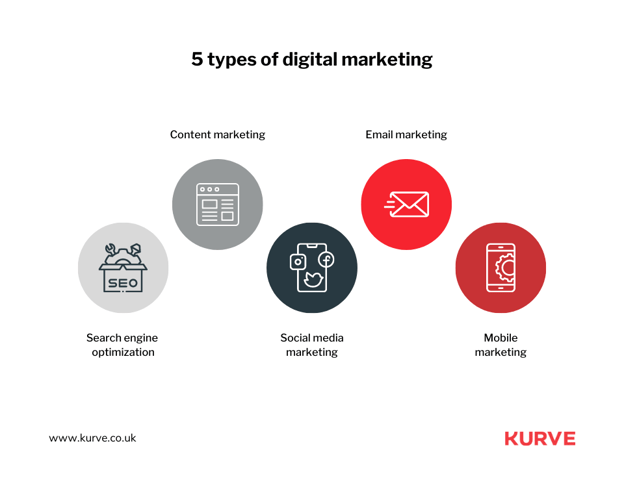 App-based marketing: This employs mobile apps for marketing activities, often integrated with popular platforms such as Facebook or Google AdMob.
In-game mobile marketing: Ads are displayed within mobile games as banner pop-ups, full-page image ads, or even video ads.
Location-based marketing: This targets users within a specific geographical location, offering personalized marketing messages based on their vicinity.
Mobile search ads are basic Google search ads explicitly built for mobile, often featuring extra add-on extensions like click-to-call or maps.
SMS marketing: Despite the advent of more sophisticated types, SMS marketing remains a potent tool, offering direct communication with users.
Well-Known Mobile Marketing Examples
Now that we have a solid understanding of mobile marketing and its different types, it's time to delve into real-world applications of this potent marketing tool. We can learn valuable insights and innovative strategies by analyzing successful mobile marketing campaigns from renowned brands.
The following sections examine 12 impactful campaigns. We hope this inspires and guides your mobile marketing efforts. From personalized push notifications to ingenious in-app marketing strategies, these examples illustrate the breadth of possibilities in mobile marketing.
Sweatcoin
Our collaboration with Sweatcoin - a health and fitness app - showcases Kurve's ability to help companies scale while maintaining a high quality of user acquisition. Despite Sweatcoin's success with a user base of 60 million, our goal was to make their growth model more predictable, scalable, and transparent.
We first integrated Google App Campaigns and Paid Social into Sweatcoin's strategy. This allowed Sweatcoin to reach new audiences with its unique value proposition: "It pays to walk." Simultaneously, it gave the team control over campaign volume and CPI, enabling low-level experiments to optimize ad effectiveness.
Next, we leveraged TikTok's demographic - largely Gen Z, a significant health and fitness app user segment. We collaborated with micro-influencers to produce user-generated videos, driving down creative costs and creating viral advertising loops, reducing CPI and greater visibility.
Moreover, by defining conversion as the number of steps a user takes, we helped train Google's algorithm to target Sweatcoin's ideal users without audience targeting. As a result, Sweatcoin ranked 1st in the UK's Health and Fitness chart and entered the global top 5 within a few weeks.
In short, our strategic, integrated approach to growth empowered Sweatcoin to achieve unprecedented traction, market appeal, and growth potential, validating the efficiency and effectiveness of its channels.
Burger King
Burger King's innovative mobile marketing campaigns showcase a bold, playful, and highly strategic approach to customer engagement. Its "Burn That Ad" campaign became a masterstroke in leveraging emerging technology and clever competitive tactics.
In this campaign, Burger King introduced an augmented reality (AR) feature in its mobile app. Users could "burn" ads from Burger King's competitors in the digital space, and in return, they received a coupon for a free Whopper. This campaign intrigued and rewarded users, creating a vast reservoir of user-generated content for further promotions.
Simultaneously, Burger King employed geofencing, a location-based mobile marketing tactic. They created a virtual fence around rival McDonald's franchises. Whenever a customer was near a McDonald's outlet, they received a notification on the Burger King app offering a signature Whopper for just one cent, leading them to the nearest BK outlet. This clever strategy led to a surge in app downloads and enhanced customer engagement.
These successful campaigns demonstrate the power of well-executed mobile marketing strategies.
Netflix
Netflix brilliantly harnesses the power of app push notifications to enhance user engagement and retention. These notifications are personalized and engaging, prompting users to pick up where they left off or informing them about new releases. Customizing these notifications is rooted in user behavior and data, ensuring the content sent is relevant to the recipient.
Incorporating rich media, like GIFs and emojis, sets Netflix's push notifications apart, making them more appealing to users. Additionally, by leveraging AI, Netflix optimizes send times and titles, making these notifications even more effective. This carefully tailored and strategic use of app push notifications by Netflix has significantly increased retention rates.
Starbucks
Starbucks' mobile marketing strategies have led to groundbreaking success and adoption rates. In 2011, Starbucks introduced a mobile app that displayed the nearest outlet and menu and accepted payments for orders. Over the years, the app evolved to include personalization, surveys, loyalty programs, and more.
In addition, Starbucks also capitalized on SMS marketing, sending personalized messages about orders, deals, and rewards. They even ran interactive SMS campaigns involving trivia contests with complimentary drinks for winners. On their mobile app, a seamless loyalty program combined with special offers and the ability to prepay for beverages led to increased engagement and higher revenues. This innovative mobile marketing strategy has resulted in an estimated 21% of Starbucks transactions being conducted through mobile apps.
IKEA
IKEA has capitalized on the power of mobile marketing campaigns to address a common consumer pain point: uncertainty about how furniture will fit into their homes. To tackle this, they launched IKEA Place, an app that utilizes augmented reality (AR) to overlay life-scale images of furniture items against the backdrop captured by the user's camera.
This innovative approach lets users visualize how furniture looks and fits into their intended surroundings. Besides providing a practical solution, this strategy has significantly boosted user engagement, with app users spending an average of 8 minutes, up from the previous 3 minutes. This revolutionary mobile marketing strategy has resulted in 370,000+ new monthly users globally and increased IKEA's revenue by about 11%.
Calvin Klein
Calvin Klein leveraged the power of mobile marketing by capitalizing on existing opportunities. When supermodel Miranda Kerr used the hashtag #MyCalvins in one of her posts, it unknowingly sparked a marketing campaign for the brand that garnered over 185,000 likes on Instagram.
Calvin Klein recognized this opportunity and engaged other celebrities and influencers to propagate the hashtag. The brand also developed a WAP site for the UK launch of its ckIN2U fragrances. On this mobile site, consumers could download wallpapers, share the website link, and access a list of stockists. They also offered exclusive ckIN2U iPods and free fragrance samples, further enhancing customer engagement.
Samsung
Samsung's 'Unpacked' event is a successful example of its ability to generate hype around its product launches. Samsung took advantage of the power of live streaming to reach a global audience, ensuring that everyone had a front-row seat to the grand reveal of their latest products.
The live stream was accessible via Samsung's official websites and social media channels, allowing potential customers to engage with the brand and share the excitement of the unveiling in real-time. With millions of views, Samsung effectively used mobile marketing to build anticipation and engagement, making the event a resounding success. This strategy increased brand visibility and fostered a sense of community among Samsung users worldwide.
Domino's
Domino's Pizza, known for its delicious offerings and nationwide delivery, used a referral program as a significant part of its mobile marketing campaign to drive customer loyalty and repeat purchases. In the face of competition from Pizza Hut during the Super Bowl, Domino's launched an ingenious "Piece of the Pie Rewards" program.
Users could sign up for this rewards program and earn points by scanning any pizza, even those not from Domino's. Once users accrued 60 points, they received a free pizza from Domino's. The mechanics of this campaign hinged on an AI-driven pizza-scanning mobile app. This innovative strategy significantly boosted user-generated content and brand awareness, showcasing Domino's ability to think outside the box to make its mark despite fierce competition.
Ruffles
Faced with a recession in Brazil, the snack brand Ruffles got innovative. To combat declining sales, it completely revamped its brand and tried an innovative approach. It launched "AmiGO," a mobile augmented reality game promoting friendship among its teenage target audience.
The unique game transformed friends into in-game characters, fostering interactive experiences. The campaign was orchestrated in three phases:
Igniting excitement through influencer collaboration.
Maintaining engagement via spirited conversations.
Promoting influencer content to sustain involvement.
This rejuvenating strategy reversed the sales slump with a 43% boost and generated 26,000 app downloads within two months, with users spending an average of six minutes daily on the app. Consequently, Ruffles secured a spot among Brazil's top 15 most valuable brands, marking a successful brand repositioning.
Amazon
Amazon leverages in-app marketing to engage, convert, and retain users effectively. A prominent reason behind the success of their mobile app, which is preferred by 51% of users over browsers, is its easy login feature. Amazon strategically uses in-app tiles and banners to promote personalized deals and discounts based on user interests and behaviors, ensuring customers keep returning to the app.
Full-page banners highlight special deals during more significant events like the Black Friday sale. The app also guides users in their navigation, showcases time-sensitive discounts and offers, and sends reminders to users to complete pending tasks. This targeted and user-friendly approach has significantly impacted Amazon's successful mobile marketing strategy.
Nissan
As a leading automotive manufacturer, Nissan recognized the potential of mobile marketing ads to engage consumers during their leisure time. Nissan's mobile marketing campaign focused on interactivity and engagement, capitalizing on consumers increasingly spending more time on their smartphones.
Customers were required to visit the Nissan website to encounter interactive ads. Upon entering a specific code, their mobile phones were synced with the website. Then, they could use their mobile phones to manipulate the Nissan vehicle featured in the ad. They could turn the steering wheel left or right and even park the car by interacting with their mobile screens.
The more the customers wanted to learn about Nissan, the more they engaged with the brand. This innovative mobile marketing strategy allowed Nissan to capture users' attention in a fun and immersive way, increasing brand engagement and awareness.
UNIQLO
The Japanese clothing brand UNIQLO leveraged social media, geo-tagging, and incentives to craft a successful mobile marketing campaign. Customers visiting any of UNIQLO's 62 stores in Tokyo were encouraged to "check-in" using their social media profiles in return for a 100-Yen coupon.
This strategy turned store visitors into brand advocates, increasing visibility and making referrals enjoyable. The outcome of this campaign was impressive, with a surge of visitors leading to 202,479 check-ins over just three days.
This resulted in a historic sales record of 10 billion Yen for UNIQLO, effectively demonstrating the power of integrating social media and mobile marketing. The campaign's success underscores the potential of strategic mobile marketing in driving engagement, visibility, and sales.
Final Thoughts
The transformative power of a well-executed marketing strategy is truly astounding, as demonstrated by these case studies. The approach is unique, yet the outcome is uniformly successful, reflecting the diverse potential of digital marketing in the mobile app space.
At Kurve, we aspire to craft bespoke strategies that fuel growth and amplify brand impact. Like we've done with Sweatcoin, we aim to deliver measurable results that resonate with your unique business objectives and market context.
Are you ready to witness a similar growth trajectory for your business? Let's start a conversation about how we can help boost your digital presence and ignite unprecedented growth. To embark on this journey with us, reach out here.
We're excited to collaborate and make your app our next success story.