Ultimate Guide: Link-Building Tactics For B2B Startup Growth
This article will explore how a funded B2B startup can benefit from link-building and SEO. I'll briefly explore the place of link-building within the wider landscape, and then provide actionable advice for building high-quality backlinks. Finally, I'll investigate the backlink profiles of some prominent B2B startups to see where they're focusing their efforts. These tactics are not relevant for any startup at any stage of growth. In fact, link-building should usually not be conducted as priority during the product market fit phase, due to the superior effectiveness of paid media in securing an immediate route to market. Instead, link-building should be seen as a method by which to future-proof your B2B startup; to build a presence on the search rankings that generates inbound leads on a regular basis.
Are backlinks important for a B2B startup?
Over the past few years, the subject of backlinks has never been far from the debate on SEO best practice. Traditionally, backlinks were the key to high performance in SERPs, and the game was all about volume; the number of links pointing at a site was viewed as a primary mark of relevance. As a digital marketer it was controllable and somewhat predictable SEO. This system led to abuse. When pagerank was king it was easy to manipulate the results through spammy practices that improve a site's rankings without improving its quality. With Google algorithm updates over the past ten years, the landscape of SEO has changed. The most significant algorithm change for link-building came in 2012 with the Penguin update. This introduced additional criteria, looking more closely at link quality in addition to quantity. The precise algorithms that the major search engines have in place are not publically known, but every recent change aims to surface quality content and penalise those which played the system.
The impact of algorithm updates
These Google algorithm updates hit many websites hard over the past years, including high-profile properties such as Rap Genius in 2003 and The Washington Post in 2007. It is still challenging to judge where the line is, in terms of link-building best practice. The rules on algorithms are so complex that even Google itself is not immune and has been forced to sanction itself repeatedly, including in 2012 when the company was penalised for link-buying for the Chrome browser launch campaign. Although the link-buying was found to be accidental and through an external agency, the Chrome homepage was knocked from the top results for its own name for two months. Despite the impact of algorithm changes, link-building is still a key aspect of contemporary SEO, albeit with a new holistic approach which focuses on quality over quantity. In a 2016 live Q&A, Andrey Lipattsev, Search Quality Senior Strategist at Google Ireland, confirmed that the top two signals contributing to the result of a search query are "content and links pointing to your site".
Factors for ranking success
A 2016 study by Ahrefs, authored by Tim Soulo, looked at the correlations of different on-page SEO factors for rankings across 2 million random keyword searches. The results, although not one-size-fits-all, are revealing. In comparison with on-page factors (such as the age of the page, length of content and keyword matching), backlinks proved to have a much higher correlation with Google ranking.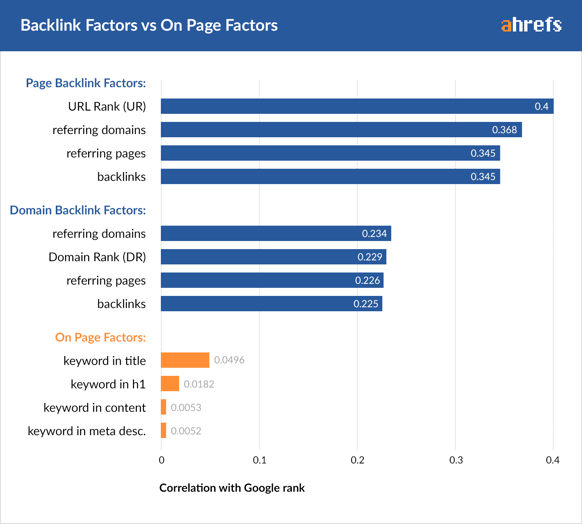 However, there are obviously other factors at play here; in order to attract quality links, you need to be creating high-quality, well-targeted content.
Content and backlinks
It seems obvious but without compelling content, it's harder to build backlinks. Back in 2012, a study by serpIQ found that long-form posts generated more backlinks. The results showed in their study of more than 20000 keywords, the top 10 results all featured content of over 2000 words, and the average number of words for the top-ranking content was 2416.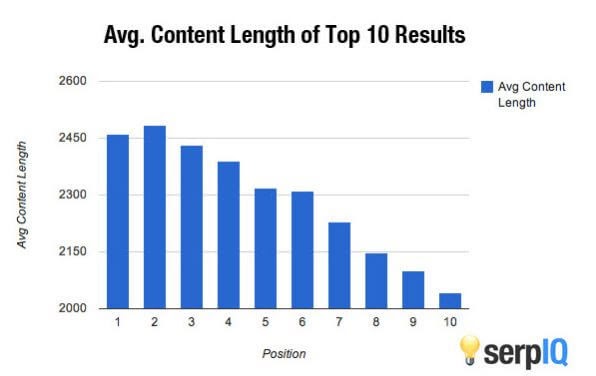 A 2016 report by Backlinko's Brian Dean analysed a million search results, and came to a similar conclusion on a number of topics. Firstly, below are the findings on number of referring domains vs. Google position: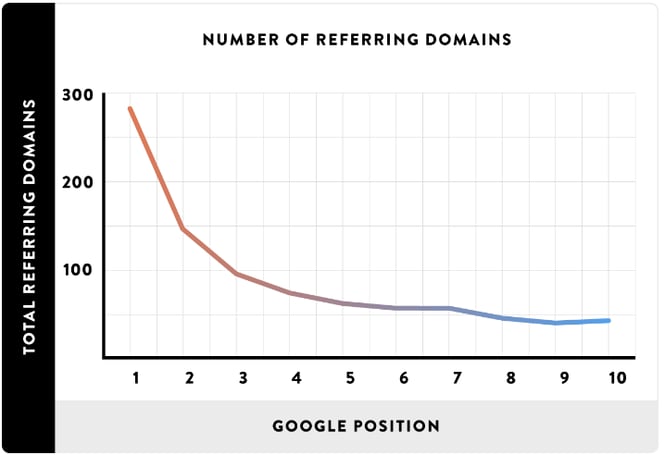 Of course, this is a virtuous cycle, particularly for blog posts and articles. Backlinks improve rankings, and thus offer the content as the most prominent reference for others researching and writing on the topic. Further linking ensues over time, which strengthens the article's position. Brian's report also highlighted the correlation between word count and rankings.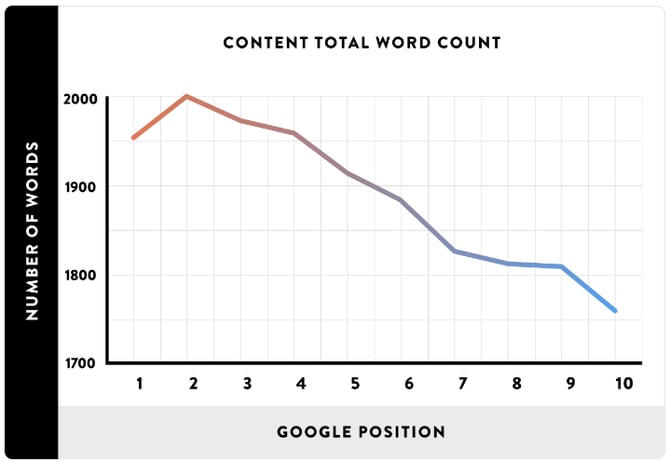 As above, multiple industry reports have highlighted the better performance of long-form content. Although a higher word count doesn't necessarily equal great content, statistics suggest that, on average, longer articles attract more links and perform better in Google's SERPs.
But what does all this mean for B2B startups?
In a nutshell, the evidence shows that effective link-building is certain to improve your website's performance in the search engines.
Why is this important?
Because better performance on lead-generating keywords equals more targeted web traffic. This results in more enquiries, sales, or signups.
A caveat to link-building for startup growth
As we've seen, the evidence shows that great backlinks do correlate strongly with higher rankings. In aiming for higher rankings, it's easy to forget that the high rank is not in itself the end-goal for the business. You're in the game to increase quality traffic and boost the sales funnel, which directly impacts the bottom-line and enterprise growth. In order to achieve better sales (or signups, free trials, etc.) it's critical that the traffic you drive is the right traffic. Data-driven research is crucial before embarking on SEO, to understand where the competition is most fierce and where the opportunities lie. I cover this a bit later, so please do read on. Also read: How to do audience research better than your competitors Link-building (in the context of B2B startup growth) makes up just one element of SEO for lead generation. In a nutshell, link-building for the purpose of business growth relies on a search-optimised (and conversion-optimised) website, intelligent keyword targeting, and a deep understanding of your audience. In reading this article you should be aware that link-building must take place within a broader sphere of digital marketing activities, the balance of which depends on your business, product, audience, and budget. If you're aligned with this, please do read on for some useful tips and tactics. If you have none of the above in place, hold-up and read the following articles:
Is SEO right for your B2B startup?
If your primary objective is immediate fast-growth, neither SEO nor link-building should be the number one priority. This channel is designed for the long-term, and has a cumulative impact over time. If you've already launched with high trajectory and are generating a solid lead funnel through paid media, SEO might be the next step to achieving long-term sustainability and passive inbound leads. The first step is to comprehend whether SEO and link-building provides an opportunity at all. Sometimes the competition is too fierce, and battling for target keywords organically would take decades. But often there are opportunities missed at various stages of the funnel. But how do you identify these opportunities?
Research points for SEO and link-building
In this brief section, I'll refer to a few resources on keyword research and audience research for determining whether SEO and link-building is appropriate for your B2B startup. In a nutshell, you need to understand your audience and the strength of your competitors. This HubSpot piece provides a solid guide to conducting keyword research for SEO. Rachel Spring talks about related terms, long-tail keywords, and competitor rankings. Another good resource is this educational piece by Backlinko, which offers a full step-by-step process to finding and using keywords for SEO. Furthermore, Irina Weber has constructed a list of the best tools for SEO competitor analysis, some of which help you understand the volume and quality of competitor backlinks, their rankings, and their keyword targeting. Know thy enemy. With regards to audience research, the key is to understand (deeply!) the concerns and obstacles of your target market. Foremost, you need to understand what your audience is searching for and whether you can provide value to them at these times. By understanding audience concerns, behaviours, wishes, hopes, dreams, and fears, you can establish website content that automatically qualifies its viewers by the very nature of their search term. You can also maximise referral traffic by targeting relevant sites with guest content, and ensure that your money-making landing pages are strengthened by links from the most pertinent web properties. So let's assume that you've decided that link-building is right for your B2B startup. How would you go about achieving success and growth in this area? In the next section I'll look at the most innovative tactics for building great links.
Tactics for B2B startup link-building
What's next for link-building, once you've decided it's right for you? Link-building is split into two areas. Firstly, all startups benefit from the quick-win (bread and butter) backlinks, regardless of priority focus. Bread and butter backlinks are easily achievable and don't require much investment. Secondly, there are the high-value backlinks. These require outreach, trial and error, and more significant time investment. High-value backlinks are often tied to content; either contributing or creating.
Bread and butter backlinks
Big growth must be built on solid foundations, right? London skyscrapers launch into the sky overnight at the moment, but only due to what supports them underneath. In terms of building a startup's backlink profile, there are plenty of bread and butter wins to attempt, in combination with the more innovative approaches. I've listed just a few tactics which will help to tick the necessary boxes. These tips apply to every B2B startup with ambitions to grow organic traffic.
1 - Directories
Nothing screams old hat (and sometimes black hat) like online directory submissions. Yes, this is the most overused and misused link-building tactic on the face of the earth. Back to the dark ages we go! On the contrary, directories are not obsolete. Google's obsession with local search gives power to local and regional directories, and means that startups should incorporate this in tandem with a Google My Business page in each of their target localities. This piece by Matthew Barby provides excellent advice on ranking a local business. This also applies to nationwide businesses targeting localities. Furthermore, there are still a few national and international directories that are worth registering for; Crunchbase and Freeindex being just two examples. As a rule, avoid paying for premium directories. Check out this list of solid UK directories as a starting point. This article by John Romain provides a useful history of directory link-building for SEO.
2 - Social profiles
Most social media profiles offer no-follow links only. Regardless, you want to dominate the first page rankings for branded keywords. Social profiles (and company pages) are some of the strongest performers in SERPs, so it's a no-brainer to get these properties secured ASAP. Secure your profiles on Twitter, Facebook, LinkedIn, Google Plus, SlideShare, YouTube, and Pinterest. The jury is out about whether links from social updates impact SEO. It's a hotly contested debate, and there are correlations to suggest that social shares impact rankings. A superb overview by Chloe Mason Gray about social and SEO is available on the Kissmetrics blog.
3 - Testimonials
By providing testimonials to the businesses and individuals that you've worked with before, you provide a credible incentive to link back to your website. Suppliers with case study pages are top of the pile; think about the tools you use, as well as accountants, office providers, estate agents, etc. Take a "backlink mindset" for all partners, and remember that SEO has bottom-line benefits.
Innovative link-building tactics for B2B startups
The innovative tactics don't necessarily need to happen after the bread & butter links. The cumulative impact of both avenues will help to develop a strong backlink profile for any startup. If you have the resources, it's perfectly legitimate to hit each avenue simultaneously. Let's explore the more strategic side of startup link-building with hypothetical real-world examples.
Guest articles
Despite Matt Cutts's declaration of (phoney) war against guest blogging, it remains a key part of the link-building toolkit. Guest writing should be a multi-pronged approach, and should tap into every angle of your startup's identity. Your journey is newsworthy and your mission is remarkable. Websites are seeking content by genuine experts and influencers. How can you exploit this?
Setting the scene - B2B startup #1
You're a startup that offers flexible contents insurance to business owners in the UK. Every client's account and profile is managed through their mobile app, and can also be accessed through an desktop portal. You have investment from VC backers, and this has helped you grow a solid user base via paid channels; PPC, social media advertising, and London Underground ads. Now is the time to start building an organic presence, strengthening the core performance of your website and generating more passive inbound leads.
Your opportunities:
Startup blogs: Investment from VC backers is a notable story angle. Consider your USPs and unique identity. What has your journey been as a startup founder? How can your growth be an inspiration (or warning) to other startups? Think about your unique perspectives and how they can be used to construct an informative piece. Pitch these with exclusivity.

Technology blogs

: You have an innovative mobile app. You're a truly mobile-first business, and you're disrupting the market. There will be complex technical intricacies associated with the building of your application, and these will be of interest to technology blogs, app development blogs, and programming communities. Comprehend what makes your technical setup exceptional, and pitch with confidence.

Financial blogs

: Your B2B startup is using technology to make a financial service simpler and more accessible. Traditional finance blogs will be interested, as will blogs discussing the latest fintech trends. Can you start a conversation about the future of the sector? Can you rile up other experts and brands?

Equipment blogs

: Businesses protect high-value equipment and assets with contents insurance. What type of equipment do they protect? Will the websites that discuss, promote, and sell these products wish to collaborate?
Setting the scene - B2B startup #2
You're a hi-tech manufacturing startup. Your business creates AI-programmed robots that build infrastructure elements such as railways and motorway bridges. These are super high value products, and your audience is extremely niche. Much of your business will be conducted via word-of-mouth, and through existing contacts at government authorities and construction companies. Regardless, you wish to future-proof your hold on the SERPs for key phrases associated to your robots and their work.
Your opportunities:
Gadget blogs: AI robots are neat for geeks. How do they work? What are the critical elements of their design? How do they compare to other AI products on the market?

Building blogs: Building and construction industry blogs will be interested in how the robots will overcome challenges to build complex infrastructure.

Employment blogs: AI will have an impact on employment and the economy. Will people lose their jobs? If not, what will happen? A company that develops robots needs to have a viewpoint on this matter, and the employment sector is willing to listen, criticise, and debate
Pitching guest articles
Here comes the hard work, fraught with setbacks and front-loaded time investment. But don't despair. Here I've outlined how you can achieve success in pitching guest blog ideas to editors and webmasters. You need to:
Pick the right websites

Pick the right topic

Pitch the right way
Let's look at these 3 steps in more detail...
Pick the right websites
You can either aim high straight off-the-bat, or build a reputation by writing for the smaller (more accessible) websites first. The former is tough and you should expect setbacks. The latter enables you to build up a portfolio and reputation, and will provide references for your pitches as you move up the ladder. But how do you define the "right" websites? From a link-building perspective, you want to be featured on a website with a high domain authority. Typically, this means anything above 50. That said, there is value to building a portfolio of relevant links from lesser websites; above 25 is worthwhile for a startup with a blank backlink profile. From a brand-building perspective, your chosen website should have a strong social media following and an audience that reflects your own. For example, as a growth hacking digital marketer specialising in startups, I focus my efforts not only on marketing blogs, but on the business and startup websites. Obviously, the topics featured on the website must be in-line with your expertise. Websites that explicitly accept guest posts are probably the best place to start. Try the following searches, which are outlined on this article by SEO Hacker:
Open your mind to those websites that don't publish official submission guidelines; and always seek out and approach individual editors when possible. Unfortunately, this whole scenario is an extremely manual process. But it's worth the return.
Pick the right topics
This excellent guide looks at how to pick the perfect topic. In a nutshell, it involves crafting a bird's eye view topic, and combining analysis about the site's historically-popular content with research on web trends. Intersect this with a unique viewpoint, and you'll have a compelling line with which to pitch. Remember, it's not about you. The target website only publishes high-quality relevant content that will add value for their readership. If you can supply a unique angle at a relevant time, you're onto a winner. If you pick the right topic for the right website, pitching the right way becomes much easier.
Pitch the right way
Here are some basic guidelines about your mindset and approach when pitching guest posts:
Care and attention: Prominent blogs will receive hundreds (if not thousands) of pitches every year. Many of these are automated approaches, machine-gunned out to multiple websites at once. Set yourself apart with personalisation, attention to detail, and genuine appreciation for the subject matter of the target site.

Read the guidelines: This speaks for itself, and it's obvious. If there are editorial rules, adhere!

Be humble: It's likely that you're not the best thing since sliced bread, so don't pretend that a guest article from you will break the internet. Be humble and down-to-earth; mention your successes in the past and link to other articles that have done well, but remember that the editor will be just fine without you.

Address the individual: In the absence of an official submission portal, dig into the main contributors and editors of the site and approach them directly, either by email or via social media.

Follow-up: People are busy, and sometimes need a gentle nudge to respond. Again, be humble and acknowledge that their priorities may not be in responding to guest blog pitches. Ask if there's a better time to chase them up, or request a quick phone call / Skype to discuss your topic ideas.
Here's a good mantra, promoted by Jess Ostroff from Convince & Convert.
"If you really care about getting your article published, then you must understand that your relationship with the editor is just as important, if not more important, as the quality of your writing. Make me care about you, as a human, and I'll be much more likely read what you have to say."
Additional innovative tactics
In this section, I'll outline some more innovative tactics for B2B startup link-building.
Link reclamation
Link reclamation is a tried-and-tested method of boosting your backlink profile. Essentially, link reclamation involves finding and approaching webmasters that have mentioned your brand without linking to your domain, or have linked incorrectly (i.e. misspelled the URL). Moz's Whiteboard Friday looked into this in depth, with Ross Hudgens examining the many smart ways of reclaiming links. Harrison Jones also published a comprehensive guide to link reclamation on Search Engine Journal back in 2011, but much of his advice is still accurate.
Broken link-building
Broken link-building involves scouring the web for relevant links that are broken and pitching your own content as a suitable replacement URL destination. Neil Patel puts it nicely;
"If you find a broken link on a website, you can contact the owner. Since you did him/her a small favor of pointing out a broken link, they might do you the favor of including a link to your website. You can even offer a replacement link when appropriate."
However, whilst being a legitimate approach, this does not have a high success rate. Therefore it needs to be scaled and can involve automation. Neil's article (linked above) outlines ways in which you can achieve this without becoming too spammy. There are also some more great tips on this Moz piece.
Real-life events
Yes, real-life events can have a bearing on your SEO performance as a B2B startup. As a startup founder, you meet other influential people in daily life. You network, socialise, and mingle. The majority of these interactions don't result in bottom-line business, but can be transformed into value by the swapping of guest writing opportunities, a featured interview, or collaboration on a champion piece of content. Furthermore, speaking at (or sponsoring) an event will encourage links from the event site, partners, and attendees. The digital world interacts with the physical world more than we imagine. Make it work for you.
Ego-baiting
People are happy to be featured and presented as an expert authority. I am, and I'm pretty sure you are too. Feature other experts in your articles, inform them of their greatness, and offer a friendly suggestion that they link to the piece within their own content. The same premise goes for this; be humble. Don't demand a backlink as a condition for their involvement; nurture the relationship and trust that their expertise will elevate the quality of your content.
HARO
HARO (Help A Reporter Out) is an excellent way to be featured in mainstream and niche press, gaining high-quality links in the process. Similarly, following the #journorequest and #prrequest feeds on Twitter will throw up some brilliant opportunities to comment on and within stories for national and international publications. I've achieved major backlink successes for Kurve and its clients through these channels.
Other opportunities
There are too many link-building opportunities to list in one fell swoop, with some requiring more time investment than others. However, Jon Cooper has created a very comprehensive guide, which you can read here. Jon also suggests infographic submissions, interviews, competitions, trollbait, and surveys. The collection of ideas is certainly worth a read, although some tactics are more pertinent to B2B startups than others.
Analysing B2B startup backlink profiles
Let's take a peek at the backlink profiles of three B2B startups. We could commit to a more comprehensive study and comparison, but in this section I merely wish to highlight some examples of good link-building within the B2B sphere.
1 - Clari
Clari is a software for sales people. It's an AI-powered tool that's designed to improve forecasting and sales execution. The website's backlink profile is certainly to be admired, and you can see this at a glance from the quality and authority of (just some of) its referring domains:
Venkat Rangan (CTO) has supplied comment for multiple Forbes Tech Council articles, including this piece on sales teams and technology, this piece about speeding up development, and this piece on UX design. Rangan has also published an insights piece on Wired. Furthermore, Andy Byrne (CEO) has written for VentureBeat on numerous occasions, having secured a spot as a guest writer. Publishing content on a hosted platform such as Medium has limited SEO benefits, although as we see here, Clari picked up a very powerful link (Moz DA 91) in reference to this post. Clari's positioning has also helped them acquire a golden anchor-optimised link from HBR. Overall, this is a solid example of content-led link-building, conducted through the expertise and experience of leading team members.
2 - Sisense
Sisense is a business intelligence and data visualisation tool. The company is based between New York and Tel Aviv, and has worked with brands such as Wix, Airbus, and Fiverr.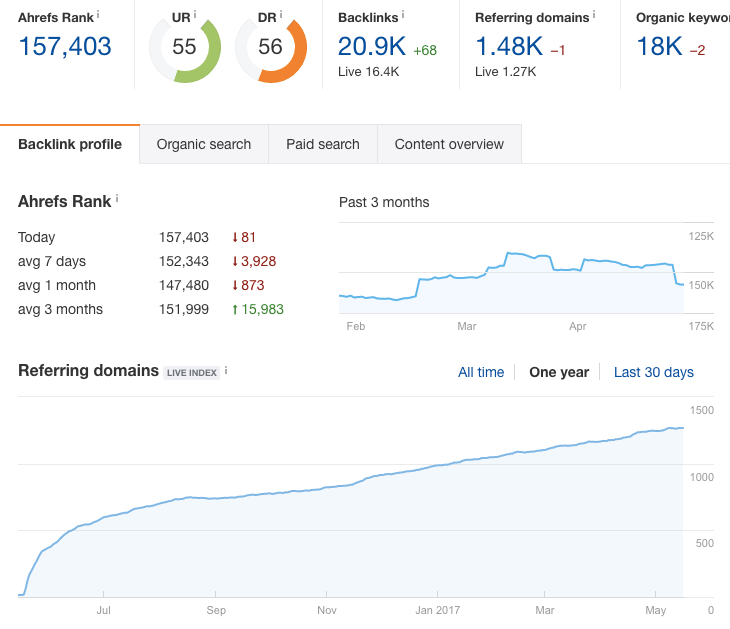 Amir Orad (CEO) has been quoted in multiple articles on Entrepreneur, signifying an ongoing relationship which has been very fruitful for link-building purposes. So too has former CEO, Amit Bendov. On-site blogging activities have also been rewarded by backlinks from high-quality websites such as HubSpot, VentureBeat, Econsultancy, ZDNet, Content Marketing Institute, and many more. Specialist data science blogs such as Master's In Data Science and Data Science Central maintain optimum keyword and theme relevance for the Sisense domain, thereby strengthening its performance. The fact that the Sisense tool is able to work with Salesforce seems to have yielded a very welcome result from a link-building perspective, as the world's leading SaaS provider (Moz DA 90) references the platform in this article about using analytics to improve sales. This highlights the potential benefits of outreach to partners and other businesses with which your B2B startup has an intrinsic connection. Sisense has benefited primarily from inbound links that are generated by the publication of content on its own blog. This is a very positive outcome and enhances the argument for on-site content marketing and effective distribution. Outreach and guest writing activities seem somewhat limited in volume at Sisense, which can be an area for improvement.
3 - HYPR
HYPR is an influencer marketing platform that measures real-time social analytics. The business works with leading global brands in multiple industries.

Events and awards form a solid foundation for HYPR, highlighting the benefits of real-world events to link-building and SEO performance. Leading figures have also been quoted in articles about influencer marketing. Similarly to Clari, the CEO has been featured in a Forbes panel piece, providing a snippet of advice on engagement and conversion rates. Furthermore, HYPR has utilised the newsworthiness of its Israeli roots, making a number of collated lists featuring the best Israeli and Tel Aviv startups, plus some features in Jewish business news. The brand has also released a number of PR pieces, which are of dubious SEO value from a backlink perspective, but certainly help to secure the top-page results for branded terms. Where can they improve? Given their target audience, their wealth of expertise, and their proven track record, contributions to high-class digital marketing and PR blogs should be on the radar. Furthermore, HYPR clearly works with a lot of data; leading website crave comprehensive studies with bulletproof data.
Guidance on anchor text
Anchor text can take many forms. Moz breaks it down into six main types: exact match, partial-match, branded, naked link, generic and image. As we discussed earlier, it's the quality of the links and the quantity of natural and genuine links that matter, however they occur. The same is true when looking at anchor text.
Pre-Penguin
Back in the heady days of early SEO, anchor text backlinks were a key weapon. Anchor text refers to the word or phrase that hyperlinks display when linking out to another location, so for a backlink it's the text of the link that takes the user to a website site. Anchor text is supposed to indicate the content that the user will find by following the link, but it also acts as a guide for search engines as to which terms the content refers to. Before the Penguin update, anchors gave a clear indication of a site's content, and would also enable elements that are not indexed by a search engine, such as images, to be included in the suggested results. However, loopholes opened and it was swift for enterprising SEOs to realise that they could significantly benefit from backlinks by using their target keyword as an anchor. It was easy to insert these anchor text backlinks and for very little effort, and the rewards were high.
Post-Penguin
One of the practices most affected by 2012's Penguin update was how anchor text is viewed by Google's algorithms. Out went the easy rankings boost and in came a system that actively penalised sites for too many anchor text backlinks for their key terms (exact match anchors). But it wasn't the anchors themselves that were bad news. Once again, Google was looking to prioritise natural linking, to weed out cases where artificial links thrived, and promote content that closely matches user intent.
Best practice
This firm stance from Google on anchors has left its mark on SEO, and the argument rages as to whether link-building should still incorporate anchor text or whether the risk of penalisation is too high. A 2016 study by David McSweeney at Ahrefs looked at the top 20 results across 16,000 keywords and found a strong correlation between the number of referring domains with exact and partial match anchor text links and SERP position.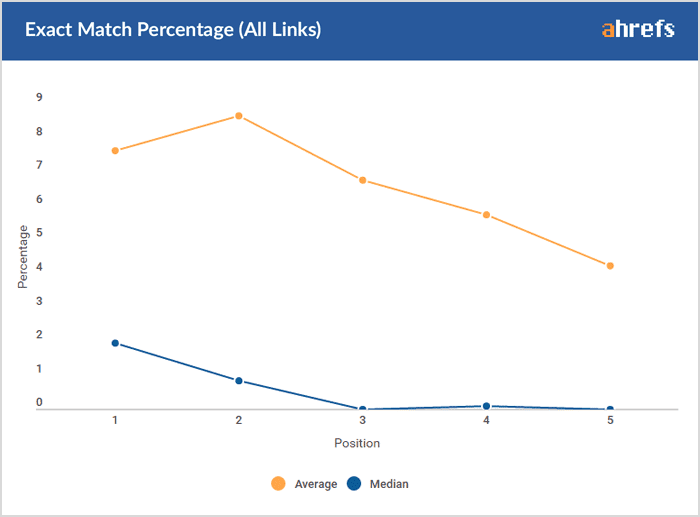 This experiment, alongside others, led researchers to conclude that even factoring in that correlation doesn't equal causation, plus the regularly evolving algorithms, anchor text still influences rankings.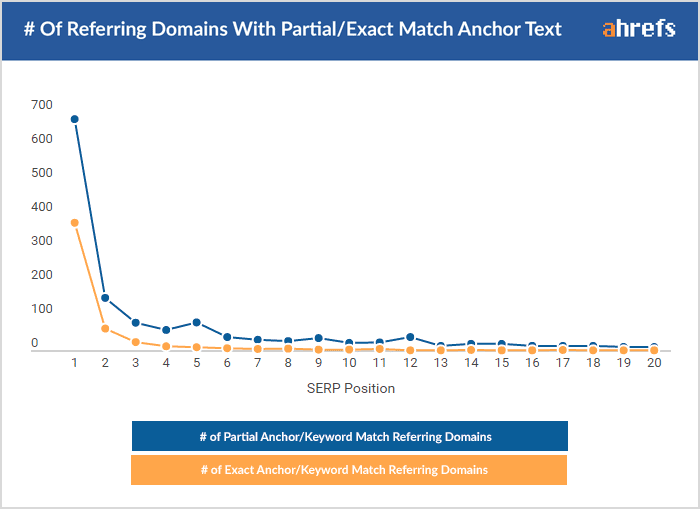 In a nutshell; maintain a natural pattern and velocity of backlinks, and don't overuse anchor text. This should guarantee that your B2B startup doesn't get punished by a Google manual penalty. If in doubt, a tool like Linkio will help for scaling link-building whilst keeping your anchor text balance in check. A study summarised by Aleh Barysevich on Powered By Search concluded that safe linking practice involved using partially-matching and long-tail keywords in anchor text, synonyms, naked URLs, and brand names. However, it found that exact match domains (EMDs) use up to 70% "money-making" exact match anchors, without fear of penalty (possibly due to an allowance / exemption by Google). Non-EMDs typically use a much lower number of exact match anchors; instead opting for diversification into synonyms and long-tail keywords.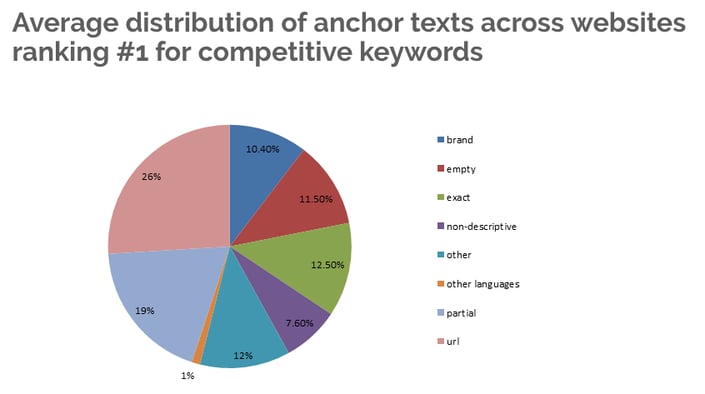 The bottom line is; don't panic about anchor text. Treat anchor text backlinks with care and resist the temptation of large-scale anchored link buying from Fiverr, and you'll be just fine.
Final takeaways
In summary, link-building for B2B startups is pertinent to those which seek long-term search engine performance. For startups that are embarking on their journey and require a high volume of customers overnight, PPC and social advertising are much more relevant channels. However, great content and high-quality backlinks continue to have a positive impact on a well-optimised brand website. The line between digital PR and SEO has somewhat blurred in recent years, due to the changing landscapes in both disciplines. There are more opportunities than ever for featuring high-quality content elsewhere, and major publications are regularly seeking expert input for online pieces. There are no quick and easy ways to build authoritative links to your startup's website. Some backlinks are more swiftly acquired than others, but the underlying fact is that most sustainable link-building can only be achieved by long-term hustling, trial-and-error, and nurturing real relationships. Surrendering to low-quality mass link-buying is not an option. This approach may facilitate a short-term boost, but eventually the axe will drop and a manual Google penalty undoes all the momentum. Keep at it, utilise multiple channels and approaches, and maintain integrity. Over time, your B2B startup will build a backlink profile that'll leave competitors in its wake.