What are examples of content marketing?
Content marketing is a vital component of any marketer's growth strategy. It focuses on creating and distributing valuable, relevant, and consistent content to attract and retain a clearly-defined audience. From blog posts to infographics, marketers deploy content in many forms to drive leads and conversions, only to get drowned in the noise of thousands of other teams with the same tactics. And sometimes, providing your audience with valuable content just isn't enough. Instead, marketers need to create compelling, original, and engaging content that resonates with their target audience.
But, what makes a good content strategy?
To answer that, we'll explore different types of content marketing, identify the differences between B2B and B2C content, and dive into some examples of successful content marketing from a range of big-name and corporate brands.
The different types of content marketing
Content is, in short, anything a marketing team creates that doesn't contain an overt sales message. This material should consist of exclusive insights or tools that have industry-relevant value.
Identifying the right types of content in digital marketing is far more of an art than a science. And, what works for one brand or audience may fail with another. Still, some of the most common include: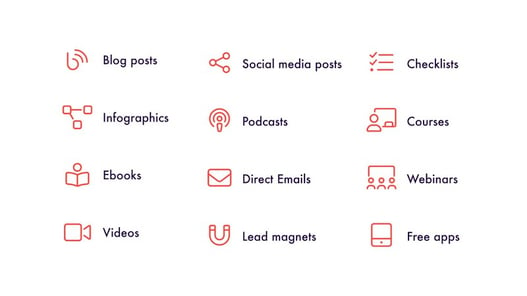 B2B vs B2C content marketing - What's the difference?
There is a significant difference between B2B and B2C content in content marketing. While they share the same goal - creating and converting leads - the audiences, the message, and how content resonates, require two very different strategies.
It's crucial to understand the difference between these two strategies before marketing teams attempt to generate material for their target audience.
Let's explore where the two types of content marketing differ.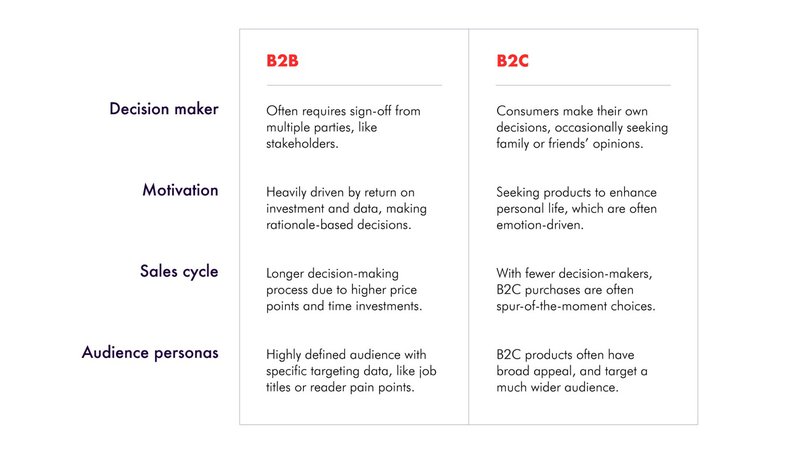 What does this mean for content?
With such vast differences across the entire content cycle, B2B and B2C marketing require radically different approaches in the types of content deployed.
Content format
While blogs and social media posts are well suited to both B2B and B2C audiences, they usually require different types of content. An ebook or whitepaper won't resonate with a B2C audience looking to make quick decisions. Instead, B2C companies should produce entertaining content that emphasises storytelling and reliability. On the other hand, B2B marketers selling highly-technical services would benefit from the trust that high-quality lead magnets provide.
Evergreen vs fresh content
Evergreen content is always relevant to readers, regardless of the news cycle or season. B2B marketers use evergreen content as a continuous resource while bumping their SERP (Search engine results page) ranking. In B2C marketing, trends and topics change continuously, so fresh, "of-the-moment" assets are more likely to resonate with consumers.
Segmentation
Most B2B marketers will target a single (or few) audience personas. And, most B2B companies, especially SaaS businesses, will have a small market audience. This means that marketers focussed on B2B business need to define the minor details of their high-value prospects, and make highly-targeted content and communications. B2C businesses, however, are likely to have much larger and less defined target market. A clothing brand, for example, will want to target different audiences with varying content based on multiple factors, like; how they identify, age, location, or past shopping trends.
Logic vs Emotion
The B2B decision-making process is logic-based and requires a factual, benefit-led approach in marketing. A business searching for a specific solution to a niche problem, will look for reassuring content to build trust in the supplier. In contrast, emotion is often a powerful motivator when selling to consumers. This is because people are looking to fulfil a need or want, rather than a long-term business partner.
Examples of B2B content marketing
Zendesk lives up to its reputation, providing thought-leadership articles that prioritise the same quality as its customer support software. In its blog or library, Zendesk discusses various issues, ranging from customer support management and sales prospecting to metrics and data. The topics are well-researched and provide invaluable insights on how to excel in customer service — an area that most businesses aim to refine.
Zendesk is building trust and continuing to expand on its already prestigious reputation to maintain a steady flow of new leads. And, they understand that fast-life business people have limited time to stop and read, so they offer a variety of material - including podcasts - in several formats, to reach as many prospects as possible.
MYOB connects companies with bookkeepers and financial services experts to help them manage their funds. They understand that many businesses are looking for or learning solutions as they develop, and their marketing team has designed content to position the brand as a go-to resource for assisting firms through each growth stage.
While they have two primary buyer personas, their Tax Time centre provides incredible insight for small businesses that are learning the ropes. And, of course, when prospects run out of time or don't have the necessary skills to manage their taxes, they're likely to turn to the team that's already helped them — MYOB.
Every year, Atomico publishes their State of European Tech report. Atomico knows that new trends and techniques emerge continuously, changing the ways businesses reach their audiences. This not-so-traditional venture capital firm released one of the most coveted, comprehensive, data-driven analyses of European technology in the sector. And, this level of insight continues to drive audiences back to their site, boosts brand awareness, and builds trust with prospects through displays of their expert knowledge.
Examples of B2C content marketing
During the pandemic, L'Oréal identified a customer pain point — not being able to go to the boutique or store to test product samples. To solve this, their marketing team built an interactive filter called Signature Faces, and it piqued our interest. Signature Faces is an elegant solution using artificially intelligent filters to try different shades of lipstick from the safety of the home. It's fun, easy to use, and highly shareable — a content marketing harmony.
IKEA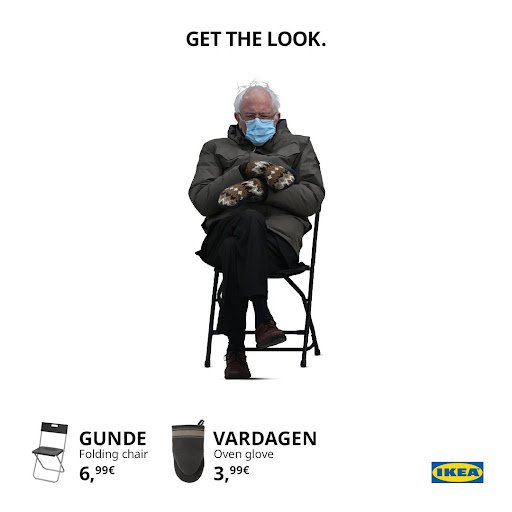 During President Joe Biden's inauguration, Senator Bernie Sanders went viral when photographed wrapped up in an anorak and gloves. Within minutes, audiences edited Bernie in increasingly hilarious settings, sharing his appearance millions of times across social media. Ikea saw this as an easy marketing opportunity to jump on board with the meme, offering the complete Bernie look with only two affordable Ikea products. Viral moments are brief, but they can draw a significant amount of positive attention to a brand and rapidly raise awareness if timed right.
We've all heard the iconic phrase, "Redbull gives you wings". In this short but exhilarating video from Redbull, ski-flyer Vallentin Delluc put on a masterful display riding and gliding over a resort in the French Alps. There's no clear call to action in this video. Instead, it's designed for alignment and association. RedBull use the brand slogan to identity and associates itself with a daring athlete at the top of their game, performing incredible feats. With over 1 million views, plenty of audience engagement, and a lifetime of sharing on social media, it's got people talking — and that's the intention.
What makes for great content marketing?
By following the principles discussed in this article, content marketing becomes one of the most powerful and cost-effective drivers of exposure and revenue online. It's a vital component of any growth strategy. However, there's nothing simple about creating world-class content. Great content marketing requires originality, effectiveness, and an ability to inspire.
It needs a deep understanding of customers, a thorough search engine optimisation strategy, excellent writing and production, and, crucially, an extensive distribution plan. Applying time, energy, and resources to build an effective content marketing machine will help companies reap the long-term growth rewards.
If you're a SaaS entrepreneur or marketer looking for the right marketing strategy for you and your business, we can help. We're a team of senior consultants and specialists, so get in touch and let's get the conversation started.