Marketing Funnel vs. Customer Journey
Marketing funnels and customer journeys are both indispensable frameworks that provide actionable insight into where and how to focus your energy for the greatest marketing ROI.
But strategies should never be implemented without a key understanding of context. Let me begin by clearing up the main confusion about marketing funnels and customer journeys:
No, they are not different names for the same thing

No, they are not mutually exclusive

Yes, they are best utilised when adopted as a package
I'm going to break down the two concepts in terms of how they relate to digital channels, and analyse how they can be interwoven to create an effective basis for a marketing strategy.
The marketing funnel
The marketing funnel is a simple visualisation tool that splits up the phases of converting browsing eyes into customers, from awareness to your final objective - customer action and purchase. This is comprised of the following elements:
TOP OF FUNNEL (or TOFU)

MIDDLE OF FUNNEL (or MOFU)

BOTTOM OF FUNNEL (or BOFU)
Next question - why is it funnel-shaped? The answer to this has two components:
Marketers aim to catch far more than they can convert.

As these potential customers move through the funnel, many drop off, narrowing down the number of those converted by the time the lower-end of the funnel is reached. You must cast the net wide.

More resources are needed at the top than are required at the bottom.

Why? Because generating leads is hard to do effectively. As

HubSpot's 2018 Marketing Statistics

show, 65% of businesses say generating traffic and leads is the biggest marketing challenge.
Until recently, marketers and vegetarians have had at least one thing in common - TOFU was their main focus. However, the structure of this funnelled approach is changing
For example, let's take into account influencer marketing. This is the awareness phase, yes? Not always. As Danielle Wiley writes for Forbes, influencer marketing has a role in the funnel beyond awareness. With the help of the right ambassadors, the interest and action phases can be entered directly. Why? Quite simply, because influencers have influence, and immediate trust can be gained to direct an action.
As such, the marketing funnel must be reimagined. You're no longer pushing people through a narrow pipeline. Rather, each phase of the funnel must be nurtured in the context of the audience, your marketing channels, and your goals. Arguably, this is where the complementary use of a customer journey comes into play…
The customer journey (map)
As Daniel Newman explains in Entrepreneur, we live in the age of the customer. A customer journey map is a visualisation framework, designed to highlight a customer's experience, from their first pain point to contact with your brand, to sale, and further beyond.
This map shows every marketing channel, highlighting how prospects engage with your brand. There are many ways to construct the map, depending on how you need to monitor the journey. The key aim is to visualise every section of the journey to spot need states, barriers, worries, questions, and motivations throughout.
Touch points can be marked in the context of the funnel stages, as seen in the illustration below: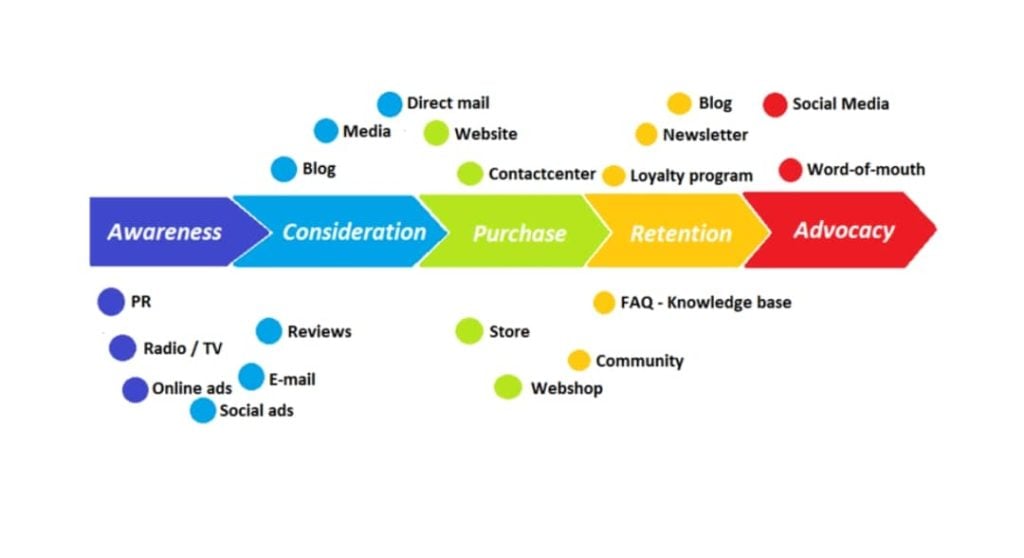 Source: Wikimedia
This is a very simple version of a customer journey map, and they can take various formats.
You can see that a vital element of this journey is the path to advocacy. This takes the customer through to becoming an energy that loops back into awareness, consideration, and purchase. Modern customer journeys are compartmentalised, but they are not linear.
Your content goes here. Edit or remove this text inline or in the module Content settings. You can also style every aspect of this content in the module Design settings and even apply custom CSS to this text in the module Advanced settings.
How do they work together?
Put simply, the marketing funnel and customer journey both enrich each other to provide a better and more wholesome view of the customer. The structure of your visualisations depends on your own preference, and there are plenty of templates on the web to use.
Another option is to adopt the "Marketing Hourglass" - a synthesis of the funnel and journey. It will be constantly turned over, one side flowing into the other. It's not linear, nor is it circular.

Source: Customer Journey Marketer
In conclusion...
The creation of a customer journey map is essential, and most marketers will use a variant of the marketing funnel structure as a basic ingredient.
To map touch points in the context of buyer stage is must-do, but it is important to not be reductionist or generic. Whilst separation and categorisation cis always helpful, it pays to be as specific as possible. This is where the adoption of a more detailed funnel comes into play, forming itself as part of an in-depth customer journey map.
The key is to uncover pain points, need states, and emotions. The marketing funnel will provide basic pointers for structure and a frame of reference, but you must delve much deeper to build an effective marketing machine.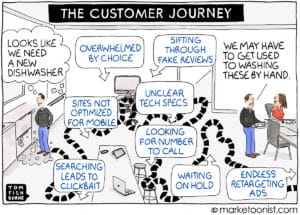 Source: Marketoonist